Last month 3 Generations' Board Chair Nadia Zilkha traveled to Toronto with our team to meet and interview Yazidi survivors of the 2014 genocide by ISIS. This work was facilitated by Project Abraham, a Toronto-based not for profit organization established to help Yazidi refugees resettle in Canada. This is her account.
Each female victim of the Yazidi genocide interviewed by 3 Generations in Toronto last month told her unique horrific story with the same fierce intensity and precision. The details varied, but they all spoke of their captors' extraordinary brutality, their own vital will to carry on and their unifying luck. And each emphasized the goodness of the group, Project Abraham, now helping them resettle in Canada.
In 3 Generations' most recent project, I'd felt more compelled than ever to join Jane Wells to meet and interview some of the Yazidi survivors living in Toronto: women who were kidnapped and sold into sexual slavery by ISIS after the genocide in their home of Sinjar. Because of my own family's hasty escape from Iraq in 1927 (the Black Hand Society was hunting down my grandfather), I had felt a particular affinity with the Yazidis.
I quickly learned, however, that my family history had not equipped me to fathom the atrocities and hardships these women had endured at the hands of ISIS. It made me truly confront the terror that in our modern era, genocide continues unabated.
The women were all wearing black, against our dark backdrop. The only color in the room was the survivors' red-painted fingernails. Their faces filled with pain as the horrors spilled out in their native Kumanji dialect. They spoke of their journey, traversing from Northern Iraq to Syria and back again. But Jane and I understood that their survival rested purely upon their own wits, bravery and outsmarting their captors.
Before and after they shared their stories, they were eager to make us welcome. They had prepared food — Middle Eastern dishes that would have made my grandmother pause in rapture, including sesame date pastries and burnt rice. These feasts were accompanied by tea, served in small glass cups. I felt transported back in time, to visits at my grandparents when I was little.
These Yazidi women have already lived in Canada for 18 months. Their children can now speak and read English with confidence and independence. As with so many children of immigrants, they are helping their parents navigate this new life.
But the Yazidis still maintain their traditions and cultural identity. They come together to celebrate weddings and new births. This frequent connection to community helps ground them in their newfound and strange surroundings. There is even discussion that inviting more of their closer relatives to join them in Canada will help them heal and reduce their sense of isolation.
What is many times forgotten is that it requires more than money to settle the Yazidis into their new life. So, thankfully, the Project Abraham volunteers have offered many other kinds of help to fill in those gaps. Many of them are the children of Holocaust survivors, who had immigrated to Canada themselves following genocide. Now their adult children have the opportunity to give back. Witnessing this kindness and commitment of strangers who have adopted the Yazidis was moving to say the least.
The volunteers see protecting the Yazidis as a near-full time venture. Theirs is an emotional, as well as physical, commitment. It was heartwarming to watch as the Yazidi women communicated to their adopted second families through broken English and sign language.
In the age of Trump, I was struck by the sharp contrast between the United States and Canada in addressing the humanitarian crisis. In the bitter cold of Toronto, the Yazidi tale was one of resilience and endurance.
Filmmaking is a slow process and 3 Generations has much to do before we can create a work that honors the resilience of these Yazidi survivors. I am grateful to have helped record and document these crimes against humanity. I believe 3 Generations' mission of lending a voice to victims of human genocide and atrocities gives them dignity as well as the chance to be heard.
— Nadia Zilkha
New York City Feb 1st 2019
Sunday January 27th will be International Holocaust Remembrance Day, as designated by the United Nations. It's the day when Auschwitz-Birkenau was liberated by Soviet forces in 1945. It's a single day when we are asked to remember. To remember those who perished and the suffering of those who survived. It's an International Day of Remembrance so that all of us, not just Jews, can pause and remember and collectively repeat "never again".
Except never again keeps on happening again and again and again.
I want to dedicate this January 27th to the forgotten victims and survivors of this century's most recent genocide: you remember, the one against the Yazidis. The one that happened back in 2014. Yes, there have actually been more recent atrocities: the burning of Rohingya villages in Myanmar, the civil war in Syria and the catastrophe in Yemen. All are beyond comprehension. But today I am focusing on the loss and suffering of a single woman I met last week.
  © Emmanuel Bastien for 3 Generations
Her name is Zozeya. This is her portrait. She is a young mother who witnessed the killings of her family, her friends and her community. She was kidnapped and sold as a sex slave by ISIS. She survived torture, starvation and repeated sexual assault. She saved her 3 young daughters and now lives in a small house somewhere in Canada. Those young girls witnessed everything that happened to their mother. They live alone in that small house thousands of miles from their ancestral home. They live alone with their memories. Their challenge is to unremember enough to rebuild their lives. They can't do it alone, but if we don't remember, they will have to. Remembrance is a practice. I would argue it is a spiritual one. Without memory we erase not only lives, but cultures and history. If we don't remember we will first erase our common humanity and then eventually our own. And that's when never again happens again and again and again.
–Jane Wells, Executive Director and Founder
Happy birthday to the incomparable Martin Luther King Jr. He was born 100 years ago and yet, we still have a ways to go before his dreams become a reality.
A disturbing New York Times investigative piece by Pulitzer Prize-winning journalist Eric Lipton confirms and amplifies what we've been screaming about for the last 4 years. The news from the Fort Berthold Indian Reservation is ominous. The trade off between short term economic gains from fracking and its long term environmental damage disproportionately harms the residents of the reservation. Of course, this story from Fort Berthold is only one part of the larger crisis the Trump administration's relaxing of environmental protections has wrought.
Key members of the Mandan, Hidatsa and Arikara nations, the protagonists of our 2016 feature documentary, A Different American Dream, knew that this crisis was coming. If you haven't already seen the film, watch it now on Vimeo. This award-winning film takes the viewer deep into the world Eric Lipton recounts. 
Watch it and weep.
–Jane Wells, Executive Director and Founder
We did it. We deactivated Facebook. It's barely a ripple in a small pond but I believe the Dalai Lama's teaching about the power of a lone mosquito. All who have deactivated had their reasons, for many it was a combination of factors. For us there was a red line — the role of Facebook in fomenting the annihilation and dislocation of the Rohingya muslim minority in Myanmar. 3 Generations is a human rights and social justice organization. We couldn't accept that on the other side of the world a huge American company had been playing a pivotal role in a genocide:
Members of the Myanmar military were the prime operatives behind a systematic campaign on Facebook that stretched back half a decade and that targeted the country's mostly Muslim Rohingya minority group — The New York Times 10/15/18
Imagine if a US corporation had been behind the genocidal propaganda spewed by Radio-Television Libre des Milles Collines during the Rwandan genocide? Or supporting the Nazis during the 1930s in Germany? Unthinkable. Unacceptable.
Filming with Imran in Chicago, 12.18.18
Another recent New York Times article recommended assessing collateral damage before deactivation: at 3 Generations we called a board meeting and received a unanimous vote that the risk was worth it. My co-workers and I followed suit because we support the Rohingya and the NAACP. Working in the human rights field, we know when enough is enough.
Deactivating will impact our work. We will have to find new ways to inform the public about what we are doing and thinking. At this critical end of year giving season it will affect donations but it will be worth it because we didn't do nothing.
This week, when we had the opportunity to film a Rohingya refugee, it felt great to not post about it on Facebook. The hypocrisy would have been unbearable. The young Rohingya man, Imran, has literally lived his whole life without basic human rights: the right to an education, to travel freely, to have papers and a legal identity. And yet he sat before us a beacon of tolerance, hope and faith. For him being in America means freedom. For the first time in his short life he has papers, he is getting an education and has a job. He exists and his life is not virtual. He has a small group of friends who have shared his journey with him. He makes weekly phone calls to his mother and siblings, still trapped in a refugee camp in Bangladesh. Everything about his presence and story is a rebuke to what is wrong with America today — xenophobia, intolerance, racism, monopolies and fake news.
Our job is to share his story widely, to help other refugees and to do so with integrity. We could do that before Facebook existed (and arguably we did so far better) and we will again.
That's my promise to Imran and his fellow Rohingya. We will try to be a beacon of hope for your people and do so without compromising our standards. While Facebook is the tool of dictators and disinformation we will do so without its "help".
–Jane Wells, Executive Director and Founder
Shouldn't every human being have equal rights? And why would anyone want to silo those rights?                      3 Generations covers a range of social justice issues, and we are never surprised when they cross-pollinate – indeed they almost always do. We can talk about sex trafficking and genocide in the same breath (and have done so for years) because we know where there is genocide, girls and boys are being sexually exploited by genocidaires. So it follows naturally that when we explore veterans rights, we will inevitably find ourselves exploring transgender rights too. Our new short documentary, GO DEBBIE, tells the story of a Vietnam veteran who recently transitioned to her true self as a woman, with help from the VA. We were honored that Debbie shared her story with us, and did so with candor and humor. We are proud of the resulting film.
We were disheartened to get some of the most negative feedback we have ever received at 3 Generations on one of our regular fundraising platforms. Some donors felt that transgender rights do not qualify as veteran rights, suggesting that we should not honor veterans and talk about transgender rights in the same conversation. This, despite the fact that there are over 150,000 transgender veterans in this country and close to 15,000 currently serving in the military. We do not agree. But we were not surprised, given the rhetoric against the trans community playing out in the 2018 midterm elections.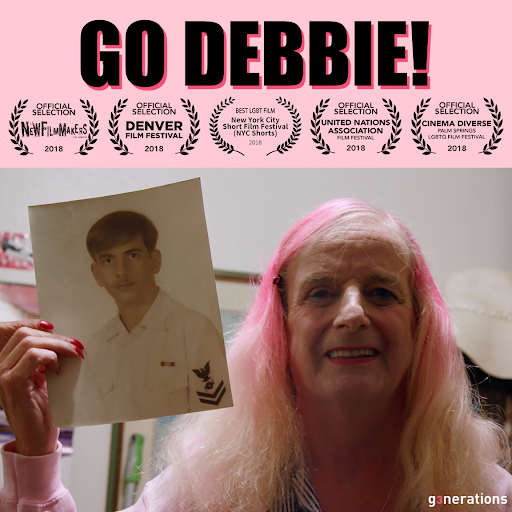 Vermont Democrat and gubernatorial candidate, Christine Hallquist, made election history as the first transgender woman to win a major party primary race for governor. She has reported receiving a steady stream of death threats, as well as personal attacks, since her candidacy began to draw national and international attention. Hallquist has said "early on when our team assembled I said 'the more successful we are, the more vitriol and threats we are going to receive' – it's kind of a natural outcome of our divided country."
Divided or not, all occupations in this country should be open to any qualified person. Fighting discrimination and advocating for equal human rights is the work of 3 Generations. If that work challenges some of our donors then we know we are still have more to accomplish. The critiquing of GO DEBBIE has actually invigorated us. It underscores how silenced transgender men and women in the military have been. "I thought this (3 Generations' program Valuing Our Veterans) was only about veterans", one donor wrote. It is, and in this case that veteran was a transgender women who served in Vietnam.
Last week we received a message from Debbie herself: "I hope my film will be part of the fight that is sure to be generated by Trump declaring that I do not exist". And so here we are, facing the 2018 midterm elections, finding ourselves at the vanguard of the fight for transgender rights.
We are proud to support and work alongside activist like Debbie Brady, Go Debbie.
-Jane Wells, Executive Director and Founder
Recently, after listening to Phoebe Judge's podcast, Criminal, I decided to visit an inmate at a correctional facility five hours north. As a student studying political science with a passion for criminal justice reform, I believed this inmate's case and experiences would be highly relevant to the direction and purpose of my advocacy efforts. To protect the privacy of the inmate, I will refer to him as Robert in place of his real name.
During the hour and a half that I spent talking with Robert, he was kind, honest, and open, and never seemed threatening or abnormal in the slightest. We sat in a tiny room, about the size of a supply closet, separated by a reinforced chain wall, similar to the cell Robert will spend the rest of his life in. He has been in solitary confinement for over 15 years. Robert has been in prison since he was 15 for two counts of murder. At the age of 21, he was released for 3 months, but was soon reincarcerated for attempted robbery. While serving 3-7 years, he committed a number of violations, including arson and stabbings, and accumulated a life imprisonment sentence.
As a child, Robert was constantly in and out of reformatories and institutions. According to Robert, nothing anyone did ever helped him, but rather taught him how to "calculate and analyze" his growing hatred. What could have helped Robert and shifted his trajectory? In his first month back in prison at 21, a highly respected friend of Robert's told him he was "too impulsive." Robert claimed these exact words changed how he faced his anger, and could have impacted him at a younger age. In a moment of clear, deep anguish, Robert said he wished a "young, intelligent woman" had taken him aside, looked into his eyes, and told him that they believed in him and would be there for him. He stressed this point, of needing a young woman to have been a mentor to him. He admits that many well-meaning mental-health professionals did their best to help him, but he didn't trust them or their methods. He needed to hear that his life was valuable and capable of goodness.
In our country, people of color (POC) are frequently treated as worthless and less-than. In America, police have violently taken the lives of young, unarmed black Americans and received little to no punishment; young POC students in public and private education often lack the resources and opportunities to succeed in a system that values wealth and white skin; emergency services are called when a young, black woman is seen peaceably eating in her school's cafeteria; incarcerated men, women, and children are forced to work in privately owned correctional facilities for little to no pay. It is no coincidence that African Americans are incarcerated at 5 times the rate of Whites. The millions of people, regardless of race, gender, or ethnicity, rotting away in prisons and detention facilities deserve to be loved, valued, and feel safe, just as all people deserve these basic rights.
Robert and I agreed that incarceration is a worthless, cruel form of suppression and doesn't benefit inmates in any way. Inmates are not reformed, but rather released as "shells of real people." They lack empathy, compassion, and trust, all necessary to cultivating safe, healthy communities. Robert excluded non-violent, drug possession-charges related inmates from his dire expectations. After spending so many years in prison, Robert believes our extremely high rate of incarceration reflects the gradual shedding of compassion, community, and empathy in our society. He is terrified of what our world is becoming. Robert believes that every 5 years, each individual sentenced to more than 5 years should be given the choice to proceed with another 5 years in prison, or be euthanized. If he were let out tomorrow, Robert stated his first act would be to request euthanization so that he may "finally rest in peace." He does not believe he or his fellow inmates are able to be free citizens.
At 3G, we believe that reform is possible, but do not support prisons, nor the privatization of such. In 2016, we released A System of Justice, to bring awareness to wrongful incarcerations and honor the life of Glenn Ford, who spent 33 years on death row for a crime he did not commit. According to the NAACP, "in 2012 alone, the United States spent nearly $81 billion on corrections. Spending on prisons and jails has increased at triple the rate of spending on Pre‐K‐12 public education in the last thirty years."
-Benah Stiewing, intern
Before joining 3G, I spent a year working full-time as an unpaid intern in Washington, DC. I spent August-December working in a Senator's Capitol Hill office, and January-May working in the personal office of a supremely popular and highly regarded former politician. In both positions, I worked eight hour days, Monday-Friday. I received $300 from the Senator and $0 from the former politician. I felt extremely honored to be working under my principles, surrounded by brilliant people doing vitally important work, and have the opportunity to contribute to causes close to my heart and see democracy function before my eyes. I'm grateful for the recommendation letters, the lessons learned, friends made, and the two new blurbs on my resume. However, neither a resume nor recommendation letter can cover the financial burdens of living in Washington, DC, which often costs upwards of $6000 for a semester. During my time in DC, I met many young people coming from wealthy, connected families who could easily afford to live in one of the world's most expensive cities for 2-5 months. I knew two people who could not, including myself.
Without the connections and networking opportunities that come with an internship, finding a job in politics is exceptionally difficult. Students from low-income and working-class families often may not be able to cover the costs of transportation, housing, food, and wardrobe without any salary or stipend. Therefore, access to opportunities on the Hill, and in politics in general, are largely limited to students who come from wealthy backgrounds, further deteriorating the cultural, racial, and socioeconomic diversity in our representation. Internships must be available to all qualified candidates in order to increase the representation of marginalized communities.
In a New York Times article, Internships Are Not a Privilege, Darren Walker, president of the Ford Foundation, asks his readers to, "consider…how a plum internship may alter a young person's career trajectory. While some students take a summer job in food service to pay the bills, others can afford to accept unpaid jobs at high-profile organizations, setting them on a more lucrative path." Students below a certain socioeconomic level are unable to reap the benefits an internship can offer, both in valuable work experience and networking opportunities, and can be effectively excluded from advancing in their field. In a Washington Monthly article, When Congress Paid its Interns, Saahil Desai, digital editor at Washington Monthly, states that, "By failing to pay interns, Congress not only dissuades children of the non-affluent from becoming interns, but also limits the talent pool from which it draws most of its paid staff…This pinching of the talent pipeline has another downstream effect: fewer minorities in the intern pool—a direct consequence of not offering payment—means fewer minorities in the ranks of the paid staff."
At best, an unpaid internship is dispiriting and frustrating. For me and many others, it places enormous strain, financially and mentally, on you and your family. In the fall, I lived in southern Maryland and commuted two hours each way to avoid DC housing costs. I had to leave every morning by 6:45am and usually didn't get back home until 7pm. Transportation fees and stress – along with having to pay for an expensive dog-walker since I was gone all day – forced me to seek housing in DC for the spring. I was lucky enough to avoid paying an average rent by finding kind-hearted individuals to house me and my dog for greatly reduced rates. Most students don't have this privilege and must pay thousands of dollars for a DC or Virginia apartment. Even though I was able to avoid high rent, I still had to cover transportation, food, medical costs, and a new wardrobe. Working as a delivery person at night and on weekends, my family and I were just able to pull it off, but it was an extremely stressful, overwhelming period of my life. I frequently went to sleep without eating all day in order to cover my Metro fare the next morning. At the end of my second internship in May, I had lost nearly 12% of my body weight and was experiencing a multitude of health problems, including recurring migraines and acute, unexplained nerve damage.
I consider myself to be skilled, efficient, and hardworking, with a passion to help others through enacting transformative and progressive change. I'm committed to advocating for equal rights and opportunities, reproductive justice, farm animal welfare, criminal justice reform, and more. For as long as I can remember, helping others, both humans and animals, has been my primary passion. After a year spent working unpaid for the very people who are elected to do just that – be a public servant – I felt used and undervalued by the system I so desperately wanted to enter.
On Monday, June 25th, the Senate passed H.R. 5895, an appropriations bill that includes $5 million for Senate intern salaries, allocating approximately $50,000 per office. According to a 2017 congressional report by Pay Our Interns, a nonprofit organization dedicated to advocating for paid internships on the Hill, only 32% of Senate Democrats and 51% of Senate Republicans pay their interns. In the House, a mere 4% of Democrats and 8% of Republicans pay their interns. H.R. 5895 is certainly a step in the right direction, but our nation's fight for income equality remains. It is not a pleasant feeling to work for nothing and skip lunch when everyone around you is being paid.
This summer, as a 3G intern, I'm extremely grateful that we have always remained committed to paying our interns. Even as a nonprofit organization that relies entirely on generous donations, 3G understands the socioeconomic divides that arise from unpaid internships, and is proud to actively support institutional integrity. Jane Wells, our Executive Director, says it best: "for years, we have gratefully and proudly paid our interns. As an anti-slavery organization we cannot imagine not doing so."
-Benah Stiewing, intern
A few weeks ago, I returned to work from a week in Guayaquil, Ecuador, a populous city in the province of Guayas, where half a century ago my maternal grandparents met while in exile from fascist Europe – two of the more than four thousand Jews who were welcomed as refugees in a country that would soon face a series of its own political upheavals. It has taken me this time to process my experience walking in their footsteps, particularly in an American political climate dominated by resurgent nationalist and exclusionary sentiments and policies.
My grandparents and their families managed to escape with their lives from Germany and Italy respectively. She was just 12 and he was 19. Their relationship unfolded in Spanish, a language newly acquired for both. Together they made a home in conditions of considerable poverty, and despite encounters with Typhus fever, earthquakes, and civil unrest, survived to emigrate to the United States in 1955, convinced – like many immigrants – that they would be met with an opportunity for a better life for their children.
My father's parents had another story of survival, in Poland and the Netherlands, and I am keenly aware that my own life is a function of this odd confluence of fates that brought four people from different countries, on different pathways, together. At just eighteen years old, my grandmother was captured in Czechoslovakia, and taken on the third transport of women to the new extermination camp at Auschwitz. As the Nazis lost ground to the Red Army in 1944, my grandmother and countless others were marched across Europe. Many died of exhaustion. Others were shot where they stood. The SS were desperate to keep their prisoners out of the hands of allied forces, and took extraordinary measures to prevent that eventuality. In Auschwitz, my grandmother twice met the Angel of Death, Josef Mengele. Her experience, and that of her older sister Rena, with whom she survived the entirety of the war, was the subject of a best-selling memoir, Rena's Promise. Her future husband grew up and was educated in Amsterdam. Though for a time he labored in a work camp, he mustered the nerve to walk out the front door when the opportunity presented itself. He escaped on a train, narrowly avoiding capture in part because he looked Aryan, but also through remarkable courage and cunning. Several times he faces SS officers and outwitted them, distracting them or using Wehrmacht officers as cover.
All of my grandparents built their lives from the ashes left by one of the most efficient genocidal war machines the world has ever known. Each, in their own way, felt it necessary to avoid allowing their experiences to make them in turn hateful of others. To hate, they would often say, was to let Hitler win. They thought their survival, and indeed of us, their children and grandchildren, as the best revenge. We rarely talked about their suffering. They poured their efforts instead into creating the conditions for an inclusive and happy family life. And yet, there has not been a single moment in my life when those memories have not, in one way or another, been present. That history, integral to my experience. To my being. And I carry their aspirations, their dreams, and to an extent, their suffering, with me every day. And I make sure everyone in my life knows how proud I am to come from such a family, and how much I admire my grandparents for all they were able to achieve and to make possible for us. All four of them have now passed on, but I carry them in my heart everywhere I go.
Spending time in Guayaquil, I found myself flooded by memories of my grandparents. My oldest brother is a cultural anthropologist and has for a number of years carried out fieldwork in Germany. Several times we have joined him there as a family. But for all we know, for as important as my grandparents and their stories are to me, the horror of that time never feels quite real to me when I am in Europe. And I had the same feeling in Ecuador. Something about violence always seems to evade us, slipping out of our grasp, impossible to capture. Scholars have said so for a long time, but there are very real consequences of this situation for our contemporary political reality. In the seventy-five years since the Shoah, much of the memory of those refugees has been wiped away. Of course, in Berlin, memorials, plaques, monuments and other signs of ostensive apology are everywhere. And yet, it also feels like any other city, no different for the crimes many of its residents committed only a few generations ago. In Guayaquil, there are today only about seventy members of the Jewish community. One would be hard pressed to find the traces of that history. In times such as these, both kinds of forgetting take on a harrowing quality. Everywhere we seem to be under threat of becoming unmoved bystanders to violence.
Every step I take is in honor of my grandparents. But now, walking in streets in so many cities that have been witness to horrors, it's hard not to be shaken by the complacency with history. These memories are the driving force behind my decision to dedicated my life to human rights advocacy. Racist violence seems to fade easily from the oppressor's sight. We forget all the time. Or continue to refuse to see what is right before our eyes. For many, these are not distant threats. They are not somewhere over the horizon. They are the reality of life right now. Visiting Ecuador has been a painful but important reminder for me. With my grandparents at the forefront of my mind, I am back at work this week hoping I can make a difference; hoping not only that violence on the scale of the Holocaust will never come again, but that we remain alive to dangers already present for our neighbors.
-Jamie Brandel, Production/Research Manager
GERMAN CONCENTRATION CAMPS FACTUAL SURVEY AT CONGREGATION BETH TORAH IN BROOKLYN, NEW YORK
Jane Wells
The full restoration of German Concentration Camps Factual Survey premiered at the Berlin Film Festival in 2014. Since then, it has been shown around the world on hundreds of occasions, and I have attended screenings and spoken about it many times. The recent invitation to screen at Congregation Beth Torah in Brooklyn, New York was different. It was the first time we have screened the documentary in a synagogue and the first on Yom HaShoah. It was a memorable and moving experience for me, and I believe, for the audience as well.
Rabbi Ari Azancot has a very profound commitment to teach his congregation about the Holocaust, particularly since its members are largely from Syria. After, he urged the audience to go and listen to the stories of survivors. It was an honor to speak before the members of the Beth Torah community, to hear the Kaddish on that particular day and to represent my father and all those who made this film 74 years ago.
At 3 Generations, we have the educational and non-theatrical rights to German Concentration Camps Factual Survey for North America. I sincerely hope other congregations, both Jewish and non-Jewish, will consider showing this film. Reviewing it in the New York Times, Manohla Dargis described the restored film as "an extraordinary act of cinematic reclamation and historiography…you need to watch." Here at 3 Generations, German Concentration Camps Factual Survey is the essence of our foundation story. The sharing of this film is the actualization of our mission. After the screening at Beth Torah, a member of the congregation wrote: "The feedback from those attending was unqualified in recognizing the film's special place in the historical record and your special connection to the material—your presence made the night something that our Congregation will never forget."
Won't you consider sharing it with your community?
In what world should it be normal that any woman or girl has zero control or say about what happens to her body? What world bestows upon a person the right to violate another? This world. This world, in its silence, says this is okay.
A week ago, while walking to work at 3G, I experienced something that I am always wary of, that has me looking around at most men on the street – that I am constantly on the lookout for. (And for any skeptics, I was wearing leggings, a huge sweater a jacket and glasses – not that it matters). I was walking by a man when he approached me, came inches from my face, and tried to kiss me – making sounds as he did so. Simple as that – so simple that no one noticed. In this moment, my heart started to beat out of my chest and my stomach dropped as I hurriedly kept walking. If you're a male or a some sort of unicorn woman or anything in between that has not experienced this, you may ask me why. This seems so trivial.
First of all, no matter how small these acts may seem from the outside, they are incredibly violating in and of themselves. I did not ask this man, or the many others who have done similar things to women, to act in this way. I should be able to have control over whether or not someone would even have the impression of being able to kiss me. Or anything else for that matter. Emotionally and mentally, women should be unapologetically confident in their bodies and confident in the control they have over it: we are endowed that fundamental right. For any person to feel unsafe walking down the street and seemingly feel as if they have no control over their personal space is frightening, to say the least. Again, even in the most open of places, it is reiterated to me that I have no say and no control over whether or not someone can invade my body, invade my emotions, invade my very being. All of these seemingly minute instances chip away at you, until it is buried so deep you don't know what you even feel anymore. We as women become so numb to what is now commonplace and engendered in what is now our culture.
Even more so, this emotional uneasiness reminds me of all the times that I've had zero physical control or say in what happens to me. So many times I can't even count, the opposite sex has felt it is their right to take something from me or attempt to. Just because it's been "okayed" by the good ol' boys club that runs our world. Just because they can. Because we have been subjugated into thinking that we are lesser than, that we are vessels to take from – that this is merely "how it is".
I myself have been in the presence of men who felt it was within their right to grab my thigh or pull at my dress.
I, like so many others in college, have written off encounters as simple drunken mishaps of the night when they really are in no way consensual (making a girl feel badly about saying no isn't okay either).
I have been in incredibly unhealthy relationships, where I've been gaslighted and wildly unappreciated.
And I have been cat called, touched, accosted, and made to feel unsafe in so many ways, for so many years that I don't remember when it began.
The degrees of these experiences, you may say, wildly varies. And it does. But let's stop questioning that. Let's stop asking "well what exactly happened?", "what did he do to you?", "was he drunk?" because truth be told, it doesn't matter in the slightest. It's this culture of masculinity, this culture that is toxic and far reaching – and in these instances, it demonstrates how pervasive it is and how it stretches into every facet of human interaction.
Still, this only continues to remind me of so many people – immigrants, Native Americans, Muslims, African Americans, the LGBTQ community, women of color, the students at Parkland High School and so many more – who have no control over so many aspects of their life. People who have far far less control than me. Shouldn't we all be able to have an equal and fair say about what happens to our bodies and our lives? The values that we say we hold onto, as Americans, are in the darkness and to move forward and heal, they must be brought out.
#MeToo
-Jamie Brandel, Production/Research Manager
By Jamie Brandel, 3 Generations Summer Intern

 The vlogger (left) having fun at a North Korean water park
As a millennial, social media has been a powerful tool in the fight for human rights — whether it be the Arab Spring or the Human Rights Campaign's equality logo. Whatever the cons of the Internet may be, it is without a doubt a profound force in raising awareness of global issues.
So when I saw the North Korean fun vlogs from Louis Cole, better known by his Youtube name FunforLouis, the first word that came to mind was "strange." If the word North Korea wasn't in the title, you may never know that Louis was vloging about one of the most frightening places on Earth. If you have ever turned on a TV before, you probably know this about North Korea. There's quite a disconnect between this video and reality. You also probably know that getting into North Korea isn't an easy task. We don't know much about the country for a reason: It blocks out any "corruption of its society" from the outside world. So it seems pretty obvious that Louis must have agreed to some guidelines, also evident by the controls set up in his visit, like Ms. Kim – one of his "tour guides."
Whether he was paid by the North Korean government or not, as some media outlets are reporting, he is clearly complicit. Like Shane Smith said, "You're not a tourist — you are on a tour."
Going to visit the monuments that pay homage to North Korea's authoritarian leaders, visiting a waterpark and schools while remaining silent on reality, these things make him just as guilty in recreating a very orchestrated image. The secretary of Joseph Goebbles, who is now the subject of a new documentary A German Life, claims she had no idea what the Nazi regime what really up to. Just another job. She says she had no idea what happened when her friends disappeared; this obliviousness is one in the same. Under the guise of some cultural relativist argument, Louis says that the Western media only portrays this horrible image of North Korea, and it's his job to show the culture and focus on the positive. At one point he tells the camera that it would cost him 200 US dollars, even as a visitor, to get probably a couple minutes worth of data. But no problem there. So does passive acceptance and willful ignorance equate to innocence? No, not really.
Louis responded with another vlog after he received a large amount of backlash. Two things struck me: One is his mention of his two favorite places he has visited, Rio and Cape Town. He mentions that Cape Town has one of the largest wealth disparities in the world. And yet, anyone who has visited Cape Town will tell you that no one, absolutely no one, would visit Cape Town and not include the images of apartheid-era settlements and racism. It is inherent in their culture and in every South African's identity. So, quite the opposite of showcasing North Korean culture.
Secondly, Louis talks about how he just left out the clips of him talking to people about their realities and how bringing happiness to people, like when they surf, was a means of change.
Now, no one is asking FunforLouis to be an investigative reporter, but purposely leaving out the truth of North Korea is the ultimate bystander effect. If you act as if the people around you aren't under constant threats of violence, it's almost like it doesn't exist. Well, it does.
Change won't come from momentary "happiness" like Louis says but when silence is broken.
By 3G Intern 
Luis Rivera-Nesrala
Last Week Tonight: A poignantly daring late-night news show hosted on HBO by John Oliver. The show's success is in large part a reflection of Oliver's ability to brilliantly marry award-winning reporting and in-depth research with his unique British satirical sense of humor.  Still, the reason that millions of viewers keep coming back each season is that Oliver acts as a proxy for his viewers, unflinchingly expressing the justified righteous rage that many of us feel on a range of social and political issues.
Last week I got on YouTube and realized that the newest episode, Puerto Rico, was out. Never mind that I'd be late to class, I clicked on it immediately.
As a Puerto Rican, I was thrilled that the economic crisis was finally being covered on a much-deserved international platform.
Even though the segment was characteristically funny and well-researched, by the end of it I was left with nothing more than a jumbled list of economic and political reasons as to why Puerto Rico is in the hole.
I was unmoved, unsure why I should care about this issue.
Oliver's power to mobilize and galvanize people to a cause is perhaps his most powerful tool. But where was it this time? More than simple recognition of the problem, I hoped that the segment would finally knock some sense into the millions of Americans who have no idea why they should care about Puerto Rico. For once Oliver failed.
Now it's my turn.
Too many people are probably wondering, "How this crisis is more relevant to us as Americans than the Greek financial crisis? After all, we don't live on the island. We don't pay $7 for a gallon of milk, or a 13% sales tax. And we certainly weren't responsible the $70 billion debt that the Puerto Rican government recklessly racked up."
So, why should you care?
Why? Because most Puerto Ricans aren't responsible for the debt either. And now they're paying the price for it. Let's break it down:
1) First, Puerto Ricans are Americans.
We are born with US social security numbers, US citizenship and we hold US passports (there is no such thing as a Puerto Rican passport). We are full American citizens in every sense.
2) Fifteen years ago there were close to four million of us living on the island. Today that number has plummeted to 3.5 million. That means that the island has experienced a 7% decline in population.
"But 7 percent??"  you might say. "That means that 93% of people are still there. How is that even a big deal?"
Let's put that into perspective.
If 7% of the US population fled the country, we would lose the entire population of the State of Texas — the second most populated state in the US. The implications of that are huge! Economically that would be like losing almost 10% of the country's entire economic production and income. And when people have less income, they spend less. When they spend less, companies produce less. And this leads to even more people losing their jobs. For many in Puerto Rico, the only option is to head to the mainland to find work.
Last year alone over 80,000 people left the island.
The bigger picture? Many of these people are doctors, lawyers, engineers, teachers and other highly educated people on whom the economic recovery will one day depend.
3) How the island fell into this toxic cycle of unlimited borrowing is largely connected to the job market,  but it is too intricate to explain in a few words.  So let's focus on the consequences of this economic catastrophe.
Due to some unjustifiable laws and obscure amendments likely introduced by Senator Strom Thurmond in the 80's, Puerto Rico cannot file for bankruptcy like any of the fifty states. This means that the 330,000 people who paid into their retirement funds for their entire working lives aren't receiving their retirement pensions because the government has wiped them clean and can't replace them. And even if they wanted to come out of retirement, the chances of finding a job in the overheated labor market would be nearly impossible. This means that food stamps, housing assistance and unemployment benefits will be slashed and the disenfranchised will continue to suffer. This means that the electric grid on the island will continue to suffer major cuts, prohibiting hospitals from operating, schools from opening, and people from getting basic services.
This was an economic crisis. Now we are on the verge of a humanitarian crisis.
—————-
The point I'm hope to make is simple.
The Puerto Rican people are not Greece halfway around the world.
This problem is your problem: now, or later.
Because we, as Puerto Ricans, are Americans.
We are Americans facing the very real possibility of becoming a lost generation. For millions of people, the inability to pay for higher education or find jobs is a daunting reality. For millions of people who have relied on government help, the massive social safety networks have expired.
You must care about Puerto Ricans because we are not just some islanders who live in your favorite vacation spot. We are the beautiful and intelligent Miss Universes, unrivaled in titles. We are the Major League Baseball players that your kids look up to and aspire to be. We are the Supreme Court justices that proudly guard and preserve the U.S. Constitution. We are the entertainers you pay to see on Broadway, whose CDs you buy and whose movies you watch. We are the people of all genders, colors, sexualities and religions who don the uniform and travel to places beyond our homeland to protect the democracy that we all enjoy.
All figures and talking points aside, we are American.
We are Americans who have lost, and will continue to lose, homes, health care and access to education. If nothing is done, and prices keep increasing, many of us may even lose access to proper nutrition.
Puerto Rico's previous governors and their grossly negligent administrations let their greed and power affect the fates of millions while they comfortably spent their millions. Now those people are penniless and being taxed at higher rates than any other place in the United States, even as they make less.
All of this in an attempt to pay off an exorbitant debt that can't be paid.
This is not the Puerto Rican people's fault. They have been exploited and now it is the moral and legal obligation of the federal government to protect the citizens living under its constitution.
This is not a partisan issue. This is not Obama. This is not Fortuño. This is not Ryan.
Esto se trata de la sobrevivencia del pueblo Puertoriqueño.
You can watch the video here
You can view a PDF of the graphic here
3 Generations' Syria Intern Luis Rivera-Nesrala will be offering his vision on the importance of regarding the value of Syrian lives as equal to life in the West this Saturday at the Posthuman Glocal Syposium in New York City. He believes that in the West a dangerous narrative has taken hold which relegates Syrian refugees to the status of second-rate humans in an attempt to justify the reluctance of many Western nations to offer humanitarian aid. Rivera-Nesrala's presentation is entitled, Syrian Refugees: The Other Does Not Exist, and will feature a clip from 3 Generations' film Three.
Please check out the graphic below that will be presented in conjunction with his talk:
In conjunction with the New York Posthuman Research Group, New York University is holding its second annual Posthuman Glocal Syposium on the weekend of April 22nd. This year's conference, titled Posthuman Futures, calls on a wide range of scholars, philosophers and NYU students to come together for a productive two-day dialogue on how we envision the future that comes after humanity in the postanthropocene era.
A complicated topic, posthumanism is an ideological and social movement founded in the philosophical discipline following humanism. While there are a multitude of disciplines that fall under the umbrella of posthumanism, the main idea is that in the future the human race will inevitably evolve to the point where we cease to be human. The looming questions with which each of the subgroups concerns itself is how to achieve the desired state of posthumanism, and what such a society would or must be like.
At its most basic level, posthumanism can be seen as a critique of humanism, the ideology and philosophy that places the human subject at the highest level of importance in the biosphere and universe. The posthuman philosophy seeks to establish a postanthropocentric society, in which all human life, regardless of race, gender, sexuality, etc. is equally as valuable as every other organism and inorganic being.
If you would like to learn more, a link for the conference is here. 
In December 1984 Glenn Ford was tried for the murder of Isadore Rozeman, a Shreveport Jeweler who was robbed and shot to death in his own shop, for whom Glenn did yard work. Despite Glenn's assertion of his innocence and a lack of evidence connecting him to the crime, a combination of:
Inexperienced defense lawyers (they had never tried a criminal case, were being paid less than $3 an hour and were unaware they could request funding to hire experts)

The testimony of a forensic pathologist (which was later exposed as "pure junk science at its evil worst")

Racial discrimination (from the all-white jury in a Confederate flag-flying Courthouse, at a time when legislation made it difficult to prove racial bias)
These issues led to Glenn being sentenced to death for a crime he did not commit. While in prison, Glenn was kept in his cell for 23 hours a day and was not permitted to participate in any religious services or educational programs.
After numerous failed appeals Glenn was finally released on March 11, 2014, when new evidence emerged showing that he 'was neither present at, nor a participant in' Rozeman's robbery and murder. At the time of his release, Glenn had spent 29 years, 3 months and 5 days behind bars, making him one of the longest serving death row inmates in the United States. Tragically, Glenn was diagnosed with terminal lung cancer shortly after his release.
After Glenn's exoneration, A.M Stroud, the lead prosecutor in the 1984 trial, issued an apology to Glenn, and urged that he be granted the maximum $330,000 compensation available under Louisiana state law:
"In 1984, I was 33 years old. I was arrogant, judgmental, narcissistic and very full of myself. I was not as interested in justice as I was in winning… Glenn Ford deserves every penny owed to him under the compensation statute."
However, Louisiana's compensation law requires "factual innocence," meaning that the defendant did not commit not only the crime for which he was convicted, but also "any crime based on the same set of facts." The state attorney general's office argued that Glenn didn't have "clean hands" because they claimed he knew about the plans for the Rozeman robbery and pawned some of the stolen jewelry. The Innocence Project's Kristin Wenstrom stated that 'they [the state attorney general's office] are coming up with new minor crimes he was never charged with or convicted of.'
The only compensation Glenn received was a debit card loaded with $20.24 upon his release, which was standardly issued to all released inmates, and he had to rely on donations to receive the hospice care that he urgently needed. On June 29, 2015, Glenn passed away from his disease at a home provided by the nonprofit group Resurrection After Exoneration.
Political Background to Glenn's Case
Although a particularly extreme example, Glenn's story is far from unique. Twenty states have no laws pertaining to compensation for the wrongfully convicted. There have been 152 exonerations from Death Row since 1972 and 329 post-conviction DNA exonerations since 1989. The number of innocent prisoners in the United States is unknown, but the few studies that have been conducted estimate that between 2.3% and 5% of prisoners are innocent. To provide context, if just 1% of prisoners were innocent, that would amount to 20,000 prisoners across the country.
Further, it is impossible to separate racial prejudice and institutionalized racism from issues surrounding both the death penalty and wrongful convictions. In Louisiana the odds of receiving a death sentence are 97% higher if the victim is white as opposed to black, in Washington State, North Carolina and California a black defendant is more than three times as likely to receive a death sentence if the victim is white. In 96% of states where there have been reviews of race and the death penalty, there was a pattern of either race-of-victim or race-of-defendant discrimination, or both.