You can view a PDF of the graphic here
3 Generations' Syria Intern Luis Rivera-Nesrala will be offering his vision on the importance of regarding the value of Syrian lives as equal to life in the West this Saturday at the Posthuman Glocal Syposium in New York City. He believes that in the West a dangerous narrative has taken hold which relegates Syrian refugees to the status of second-rate humans in an attempt to justify the reluctance of many Western nations to offer humanitarian aid. Rivera-Nesrala's presentation is entitled, Syrian Refugees: The Other Does Not Exist, and will feature a clip from 3 Generations' film Three.
Please check out the graphic below that will be presented in conjunction with his talk:
In conjunction with the New York Posthuman Research Group, New York University is holding its second annual Posthuman Glocal Syposium on the weekend of April 22nd. This year's conference, titled Posthuman Futures, calls on a wide range of scholars, philosophers and NYU students to come together for a productive two-day dialogue on how we envision the future that comes after humanity in the postanthropocene era.
A complicated topic, posthumanism is an ideological and social movement founded in the philosophical discipline following humanism. While there are a multitude of disciplines that fall under the umbrella of posthumanism, the main idea is that in the future the human race will inevitably evolve to the point where we cease to be human. The looming questions with which each of the subgroups concerns itself is how to achieve the desired state of posthumanism, and what such a society would or must be like.
At its most basic level, posthumanism can be seen as a critique of humanism, the ideology and philosophy that places the human subject at the highest level of importance in the biosphere and universe. The posthuman philosophy seeks to establish a postanthropocentric society, in which all human life, regardless of race, gender, sexuality, etc. is equally as valuable as every other organism and inorganic being.
If you would like to learn more, a link for the conference is here. 
On Saturday, March 5, 2016, our short film A System of Justice had its world premiere at the Manchester Film Festival. Executive Director Jane Wells was on hand and thrilled to share this powerful story with a global audience. We thank all of the dedicated individuals who made this film possible.
We are proud to partner with the nonprofit organizations Resurrection After Exoneration and The Innocence Project to amplify Glenn Ford's story. Ford suffered great injustices throughout his life, and we are honored to offer our intimate portrayal of his final days and legacy.
By 3G Executive Director Jane Wells
Pretty much everything. How can we talk about the genocide in Darfur without referencing sexual violence towards women? Or comprehend ISIS without recognizing their treatment of Yazidi women? At 3 Generations some were skeptical when we broadened the scope of our human rights mission, and feature documentaries, from genocide (The Devil Came on Horseback) to include sex trafficking (Tricked). Thankfully the world is finally getting on the same page. Hopefully no one will question the place of environmental degradation (our new feature A Different American Dream) in the chalice of social justice.
In June 2014 I went to North Dakota for the first time. I had heard at some of the screenings of Tricked, that young Native girls were being kidnapped off reservations to service men working on the oil fields of the Bakken Formation — the largest shale oil field in North America.
Over the course of a week I traversed the Bakken in search of my story — one about sex trafficking. What I had not expected was to be seduced by the stunning beauty of the land, nor was I prepared for the extent to which the environment was being ravaged and desecrated. I found a new, parallel story to the trafficking one, — a story I thought of as the rape of Mother Earth.
And so the idea for our new feature film A Different American Dream was born. Over the last 20 months I have been back to North Dakota six more times. This week I came to show the finished film to the members of the MHA Nation of Fort Berthold who are the principal characters in our film. It was a completion of sorts, bringing two world full circle.
As I flew home I saw this headline in the local paper: 'Despicable' sex trafficker gets 33 years in prison.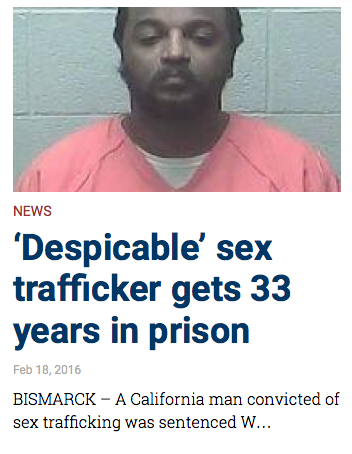 The investigation that lead to the conviction of the trafficker, Keith A. Graves, began in July 2014. When I visited the Bakken the first time he was actively trafficking young women for sex exactly as the whispers I heard had described. How fitting that he found justice as our film was finished.
Some people ask: What is the method at 3 Generations? Here it is: Everything is connected. Sex trafficking, genocide, environmental degradation. All these issues are happening side by side, often intertwined and very often under our noses in plain sight.
Today's news was especially gratifying because only a week ago we were in Miamisaluting and honoring law enforcement professionals who have worked tirelessly to bring sex traffickers to justice. In a video we premiered in Miami last week we highlight how hard it is to prosecute sex trafficking.
In the Graves case today not all of the victims were able to come forward and testify. It is no easy task for a traumatized victim to face their abuser, least of all in a public court of law. The ones who did testify were very brave and impactful. As one juror reported, "Watching people relive it (the violence) right in front of you, that was difficult. You could almost sense the anxiety, the terror, in some of the victims."
This is the change we fight for at 3 Generations and this is why we make films about subjects as diverse as sex trafficking, climate change, genocide, the refugee crisis in Syria and Death Row exonerees.
At the end of the day a broad-minded approach to social justice moves every issue forward. Sexual violence included.
By 3G Syria Intern Luis Rivera-Nesrala
Rivera-Nesrala is a third-year student at New York University where he is studying Economics with a minor in Arabic. His chief interests are in geopolitical economics, particularly in regards to the Middle East. He is the son of an active-duty United States Army service member. 
Nearly fifteen years after the unprecedented attacks of 2001 forced thousands of military men and women to pack their bags and head out over night, the landscape of U.S. warfare has been entirely transformed. Given the ongoing and evolving efforts to defeat those who seek to harm our nation, it is common for many soldiers today to have completed numerous deployments, some upwards of five.
While war and active combat are undoubtedly dangerous and trying situations, most of us fail to realize that the men and women who valiantly fight for our safety thrive in these conditions. This is where their skills and years of training are verified and validated. While those of us not in the service may find it difficult to imagine ourselves in such situations, the members of our five military branches are wired to excel in these high adrenaline environments where survival mode is always activated.
Herein lies one of the biggest misunderstandings for civilians: After performing in these high intensity, chaotic and often lawless settings for months and sometimes years, the most difficult part of fighting a war can be reintegration upon return. When these men and women return to the structure and comforts of the United States, after having lived in often war-torn nations, seemingly simple things like driving, being on paved roads, sleeping in their own beds, and next to their spouses can all be highly disorienting.
For those with children it can be tough to retake the role they played in their children's lives before deployment, which is necessarily assumed by the parent who stays home. Returning to reassume these responsibilities can be a delicate act to balance and can place great strains on spousal relations.
For those with partners the process of acclimating to involving one another in daily routines and decisions can be trying after both individuals have learned to live independently for long periods of time. For others there is difficulty in returning to work and taking orders from fellow servicemen and women who have not had the experience of being downrange.
The problems of reintegration are difficult to foresee and can manifest themselves in many ways from person to person. The one certain thing, however, is that no man or woman who fights for this nation returns the same. While the recent overhaul of the Veterans Affairs Department by the Obama Administration has done a great deal to bring to light the neglect in care that many veterans experience, there is a great deal more that must be done.
Despite the need for improvement across the board, the most crucial of all of these necessary improvements is not one of policy, funding or program availability. Instead, it concerns the unspoken, institutionally stigmatized mentality that discourages these men and women from seeking the help that they need for fear of being branded unfit for service, combat or promotion and it must be fixed.
This looming expectation that each member return entirely unaffected only encourages the festering and worsening of these internalized trauma. Far too many men and women are thus driven to adopt the mentality to simply "adapt and overcome" in spite of the reality that many among them face challenges brought on by their experiences at war.
We have a pressing responsibility to the brave men and women in the service to provide them with the reintegration assistance that they indisputably merit. This should not be a political issue and if in war no expense is spared, neither should a single cent be withheld to provide programs like John Nash's Combat Veteran Cowboy Up to those who need it. Programs like his are crucial to the healing process of those affected by the service because they provide the support of an empathetic system in which they find the company of others who share in the experiences.
While we must be sympathetic to the needs of our veterans, it should be clear that we will never fully understand what they have been through, what they have seen nor what they have done for us. Still, it falls on each and every citizen to understand the urgency of assessing and addressing the needs of our veterans. The men and women of this country selflessly defend every star and every color on our flag each day they don the distinguished uniform. When retirement or the expiration term of service sees them hang their garb and unlace their boots for the final time, it comes time for us to further extend our hands and return the favor. Supporting our troops is a commitment that extends far past the years of service and combat, and it is a duty that we must all make good on.
This year we are thrilled to once again announce our partnership with the The Women's Fund Miami-Dade, together with Camillus House & Health, Switchboard of Miami and The Children's Trust, to honor the winners of the 2015 Malone Prize on February 11, 2016, in Miami, Florida. The winners are:
Lt. Donna Gavin; Head of the Boston Police Department Anti-Trafficking unit
Special Agent Nikkole Robertson; FBI Violent Crimes Against Children, Chicago Office
Special Agent Victor Williams; Homeland Security, Miami, Florida
In conjunction with the awards, 3 Generations will premiere our new short documentary, Miami-Dade Takes on Sex-Trafficking, showcasing the work being done in Miami-Dade County to reduce and eradicate sex-trafficking in this community.
---
---
Additionally, The Women's Fund Miami-Dade will present the inaugural Annual Leslie Sternlieb Advocacy Award to Nancy Ratzan, a leader and advocate in the Miami-Dade Community whose work and tireless efforts has helped bring the issue of sex trafficking to the forefront of the Miami-Dade community. The State Attorney's Office will recognize Assistant State Attorney Brenda Mezick, Chief of Program Development & Public Policy for Human Trafficking, for her exceptional leadership and tenacity with the Katherine Fernandez Rundle Visionary Award.
Congratulations to the winners, and a special thank you to everyone who nominated the winners, assisting in the planning of the event, and participated in our newest film.
In December 1984 Glenn Ford was tried for the murder of Isadore Rozeman, a Shreveport Jeweler who was robbed and shot to death in his own shop, for whom Glenn did yard work. Despite Glenn's assertion of his innocence and a lack of evidence connecting him to the crime, a combination of:
Inexperienced defense lawyers (they had never tried a criminal case, were being paid less than $3 an hour and were unaware they could request funding to hire experts)

The testimony of a forensic pathologist (which was later exposed as "pure junk science at its evil worst")

Racial discrimination (from the all-white jury in a Confederate flag-flying Courthouse, at a time when legislation made it difficult to prove racial bias)
These issues led to Glenn being sentenced to death for a crime he did not commit. While in prison, Glenn was kept in his cell for 23 hours a day and was not permitted to participate in any religious services or educational programs.
After numerous failed appeals Glenn was finally released on March 11, 2014, when new evidence emerged showing that he 'was neither present at, nor a participant in' Rozeman's robbery and murder. At the time of his release, Glenn had spent 29 years, 3 months and 5 days behind bars, making him one of the longest serving death row inmates in the United States. Tragically, Glenn was diagnosed with terminal lung cancer shortly after his release.
After Glenn's exoneration, A.M Stroud, the lead prosecutor in the 1984 trial, issued an apology to Glenn, and urged that he be granted the maximum $330,000 compensation available under Louisiana state law:
"In 1984, I was 33 years old. I was arrogant, judgmental, narcissistic and very full of myself. I was not as interested in justice as I was in winning… Glenn Ford deserves every penny owed to him under the compensation statute."
However, Louisiana's compensation law requires "factual innocence," meaning that the defendant did not commit not only the crime for which he was convicted, but also "any crime based on the same set of facts." The state attorney general's office argued that Glenn didn't have "clean hands" because they claimed he knew about the plans for the Rozeman robbery and pawned some of the stolen jewelry. The Innocence Project's Kristin Wenstrom stated that 'they [the state attorney general's office] are coming up with new minor crimes he was never charged with or convicted of.'
The only compensation Glenn received was a debit card loaded with $20.24 upon his release, which was standardly issued to all released inmates, and he had to rely on donations to receive the hospice care that he urgently needed. On June 29, 2015, Glenn passed away from his disease at a home provided by the nonprofit group Resurrection After Exoneration.
Political Background to Glenn's Case
Although a particularly extreme example, Glenn's story is far from unique. Twenty states have no laws pertaining to compensation for the wrongfully convicted. There have been 152 exonerations from Death Row since 1972 and 329 post-conviction DNA exonerations since 1989. The number of innocent prisoners in the United States is unknown, but the few studies that have been conducted estimate that between 2.3% and 5% of prisoners are innocent. To provide context, if just 1% of prisoners were innocent, that would amount to 20,000 prisoners across the country.
Further, it is impossible to separate racial prejudice and institutionalized racism from issues surrounding both the death penalty and wrongful convictions. In Louisiana the odds of receiving a death sentence are 97% higher if the victim is white as opposed to black, in Washington State, North Carolina and California a black defendant is more than three times as likely to receive a death sentence if the victim is white. In 96% of states where there have been reviews of race and the death penalty, there was a pattern of either race-of-victim or race-of-defendant discrimination, or both.
by 3 Generations Director of Development Lindsay Gebhart
Click here to read the full impact report
For the past five years 3 Generations has worked hard to bring the issues surrounding the sexual exploitation of women and children to light. Our founder, Jane Wells, first began exploring the dark world of the domestic sex trade in 2010 and was astounded by what she learned. She quickly began capturing this world, along with those who sought to help or hurt those involved, with a series of short films that eventually grew into the feature documentary film Tricked.
She, along with the rest of the team at 3 Generations, wanted to show the world that these people's lives were not simply the results of bad choices and/or drug abuse. These women and children were sex trafficking victims. This distinction was one of many our organization strived to reshape over time.
When I began my work at 3 Generations I was extremely impressed by the scope and depth of the organization's sex trafficking campaign, and I was excited to help create a report to document all of the campaign's achievements.
The report highlights and details the work done surrounding three core problems:
Problem One: The false belief that prostitution isn't a problem and is a victimless crime.
The impact of our series of films, and Tricked in particular, was far greater than we had hoped and anticipated. A report commissioned to track media hits on this campaign between March 2013 and May 2014 identified 321 unique media hits which, in turn, generated 75 million media impressions. In 2016 Tricked will be distributed globally.
Problem Two: Law enforcement is targeting and arresting the wrong people.
There has been a demonstrable shift in law enforcement culture since 2010, more states have implemented Safe Harbor laws and we are engaged with District Attorneys and Attorney Generals through Tricked. The 3rd Annual Malone Prize ceremony will be held in Miami in February 2016 and co-hosted by the State's Attorney of Miami-Dade and Camillus House. Both of these agencies are now working together to address sex trafficking in their area.
Problem Three: There is a lack of direct services to help trafficking survivors escape the life and transition out
We were able to make dozens of nonprofit partnerships and produced nearly two dozen short films featuring many of them.
We hope you will take a moment to view our full report, which you can download here. I am so proud of the work we have done and look forward to the work we will be doing in the future. Please let me know what you think at lgebhart@3generations.org.
The Syrian refugee crisis is the largest in the world today and one of the biggest since World War Two. 11 million Syrians – nearly half the population – have been displaced and many are seeking asylum across the Middle East and Europe.  An estimated 2 million refugees have crossed the border into Lebanon. Increased security and checkpoints have left 80% of these refugees without legal status.
3 Generations started telling stories from Syria back in 2014 when we filmed interviews with Nasir, Yasmine and Sultan, three Syrian refugees in Jordan. We are proud to continue this important work through our role as a producing partner of the upcoming documentary feature Beyond the Borders. Written and directed by Sophia and Georgia Scott, the film is set in Lebanon along the Syrian border and follows the lives of four Syrian refugees and a German professor fighting for peace and human rights.
Beyond the Borders gains exclusive access to unknown stories in a region that is on the fringes of hell. The Scott Sisters have spent over a year on the borders of Syria documenting the stories behind the news reports. Beyond The Borders will be a reflection of the strange chaotic lives of the people living in the shadow of the Syrian war.
This is the second documentary feature from the Scott sisters. Their first film, In The Shadow of War, followed four teenagers born in Bosnia towards the end of the civil war. The film examines the lasting psychological trauma of growing up in the aftermath of war. Watch the trailer below:
The Scott sisters are currently on location in Lebanon filming and editing. The film will be ready for release in early 2016. Watch this space for more information.
By Lili Hamlyn
Tim Hetherington was a British photojournalist and documentary filmmaker who was tragically killed in Libya in 2011 while covering the Libyan civil war. Tim is perhaps best known for the Oscar-nominated documentary Restrepo, co-directed with Sebastian Junger, which chronicles a year with a U.S. platoon in the Korangal Valley in Afghanistan. Tim also worked as a photographer on 3 Generations' co-produced The Devil Came on Horseback. His body of work includes numerous photographic projects and magazine photo essays, as well as art installations, multimedia exhibitions and short films which included Diary (2010), a 'highly personal and experimental film' shown below:
Hetherington was an alumnus of Lady Margaret Hall, Oxford University, which is where I studied for my undergraduate degree in English Literature. As an admirer of his work, I felt deeply moved by his untimely death. This eventually led me, along with fellow student Sara Edwards, to co-found the Tim Hetherington Society, an Oxford University-based documentary film and photography/photojournalism society, in his honor.
By running this society I not only became more closely acquainted with Tim's remarkable body of work but was also able to meet those who personally knew him: his friends from Oxford, his photojournalism professor Daniel Meadows, his colleagues James Brabazon and Platon and his wonderful mother Judith.
Tim did not approach photojournalism with cool detachment or any misguided belief that he could be an invisible objective observer. Instead, he engaged with his photographic subjects on a personal level, and preferred to be called an 'image maker' rather than a photographer.
In Sebastian Junger's brilliant documentary on Tim's life, Which Way Is The Front Line From Here?, we are repeatedly presented with Tim engaging in a chatty rapport with the people he's photographing. In the film Tim states, "I want to connect with real people, to document them in real circumstances, where there aren't any neat solutions."
This is perhaps a perfect summation of his work and philosophy: It's not didactic, and instead seeks humanity even in the most extreme of circumstances. Personally, I feel rather honored to have had the opportunity to connect with Tim's impressive body of work and, through the stories of those who knew him, been able to gain some insight into this extraordinary man.
3 Generations if excited to welcome two new staff members to the organization! The first is a new hire, Lindsay Gebhart, who will be leading our fundraising efforts:
Born in a small Ohio town just north of Cincinnati, Lindsay arrived in New York City via San Francisco, where she cut her teeth in nonprofit work at ACORN. Since then she has spent the last seven years working in fundraising in a number of Manhattan nonprofits, most notably the historic Hale House and Junior Achievement of New York. She has an undergraduate degree from Kent State University in Journalism and a Master's of Public Administration from Baruch College. In addition to caring passionately about human rights and the power of storytelling, Lindsay also enjoys working one-on-one with those in need by volunteering at a local homeless shelter and adopting animals. On weekends you can find her eating way too much at brunch in Brooklyn with her husband and infant daughter then only watching the first half of Steel Magnolias, wishing the movie ended at the carnival.
Our second new hire, Lili Hamlyn, isn't entirely "new," but was recently promoted from an intern position to the new full-time Media and Productions Associate:
Lili Hamlyn grew up in London and moved to New York after gaining her BA in English Literature from Oxford University. While at Oxford, Lili founded the Tim Hetherington Society, a documentary film and photojournalism society, in memory of the late Tim Hetherington. The society screened TRICKED during it's 2013 film festival, which introduced Lili to 3 Generations work. She looks forward to continuing the work and mission of the organization by working in the media and production side of the works they produce. Lili's love of film and television has lead to her spending much of her free time attempting to make her life resemble the work of her favourite directors.
Both of them look forward to working with all of 3 Generations' wonderful supporters.
As early as 1819, the United States government had policies in place to ensure the cultural genocide of Native Americans. With the Indian Civilization Act Fund, Native children were stripped from their homes and forced to learn the religion, language, and ways of their oppressors in the Boarding School Era.
Native children faced physical punishment for speaking their Native languages and practicing their spirituality. General Richard Pratt, the founder of arguably the most violent boarding school in the United States, created the motto of the Boarding School Era, "Kill the Indian…Save the Man." If the United States could not commit literal genocide by murdering masses of Native Americans, they tried to destroy the cultural and spiritual ties to their internal being.
Generations later, the trauma is interwoven into our DNA, contributing to illnesses such as, diabetes, depression, and posttraumatic stress that run rampant throughout Indian Country. This trauma pervaded our communities, causing assimilation to white society and instilling fear of practicing Native spirituality, wrongfully driving traditional ceremonies underground. One hundred and fifty years after these oppressive polices were enacted, Congress passed the American Indian Religious Freedom Act of 1978 to protect the practice of Native American spirituality. With a revitalization of Native spirituality, came the revitalization of Native languages.
3 Generations' upcoming film, The Dakota Project will shed light on the Mandan, Hidatsa, and Arikara (MHA) Nation, who are faced with the North Dakota oil boom's impact of environmental degradation to their ancestral lands. The film will showcase the work of spiritual leaders who are guiding younger generations to understand that spirituality and language are inherently tied to our lands, songs, and history. As a Lakota and Ojibwe woman, a graduate of Native American Studies, and an assistant to this film, I knew that to better understand the people of the Three Affiliated Tribes, I would need to learn their history, spiritual practices, and their languages.
Across Indian Country, tribes are working to revitalize their languages. Curriculum has been added to schools, immersion camps, immersion day cares, and many other efforts are celebrating Indigenous languages to keep our cultures thriving. The Dakota Project has joined in this celebration. Every Wednesday, I've taken on an initiative to share a word of the day and showcase a little of what I've learned from these affiliated tribes. As a student of Lakota language, I've come across similarities and differences between our languages. I am learning in this process that I am proud of my effort to learn from other tribes. During pre-colonial times, our ancestors of the Great Plains were multilingual and communicated across tribes. In my effort to share the vocabulary, I hope that it encourages our viewers and fans of our Facebook page to learn more the history of Indigenous languages and take time to learn from one another.
In case you missed it, here are a few of my favorite words that I've learned from the Three Affiliated Tribes. Take some time to learn a little too!
"Good"                                        "Spring" (Season)                                   "Mother"
Mandan (Nu'eta)                       Mandan (Nu'eta)                        Mandan (Nu'eta)
Shi                                                Wehinu                                        Na'e
Hidatsa                                       Hidatsa                                        Hidatsa
Tsạkits                                         Miawakute                                   Ikaŝ
Arikara (Sahnish)                    Arikara (Sahnish)                      Arikara (Sahnish)
AtíŝtIt                                           Hunaaneeká                                 Atiná
-Autumn White Eyes, 3 Generations
https://www.facebook.com/theDakotaProject
http://indiancountrytodaymedianetwork.com/2015/05/28/trauma-may-be-woven-dna-native-americans-160508
http://www.npr.org/templates/story/story.php?storyId=16516865
http://www.mhasi.com/
http://www.mandanlanguage.org/
http://hidatsa.org/
http://www.arikara.org/
Freedom, Law, and Prophecy: A Brief History of Native American Religious Resistance by Lee Irwin–http://www.sacredland.org/PDFs/Irwin.pdf
This past week, NBC's Today Show hosted a Pretty Woman reunion in honor of the film's 25th anniversary much to the delight of thousands of viewers and fans of the 1990 blockbuster film. For those who need a refresher, Pretty Woman depicts the struggles of a young prostitute, Vivian, who finds her prince charming driving, lost, through Hollywood's red light district in a Lotus sports car. The man turns out to be Edward Lewis, a successful workaholic businessman. Vivian quickly charms Edward who offers to pay for a week of her time. In the end, Edward "saves" Vivian from her life as a prostitute while Vivian teaches Edward how to enjoy the life he's made for himself life and the two discover they are in love.
These days, Pretty Woman is one of the most financially successful films in the rom-com genre and is widely considered a classic judging from the 25th anniversary celebrations. Nevertheless, I myself had somehow never seen it – that is until yesterday.
In preparation for my viewing, I did a bit of research. One of the more interesting articles I read came from Vanity Fair. In a recent interview in honor of the 25th anniversary, screenwriter J.F. Lawton revealed the ending to Pretty Woman before the film was bought by Disney and the ending rewritten. Pretty Woman was originally, it turns out, titled 3,000 in reference to the $3,000 Edward offers Vivian for the week. 3,000 does not end with Edward climbing up Vivian's fire escape – rather, he says goodbye and they each go their separate ways. For Edward, that is undoubtedly back to his life as a Wall Street mogul. For Vivian, reality hits a bit harder. The 3,000 script ends with Kit and Vivian on a bus bound for Disneyland – a trip financed by Vivian's week with Edward. Kit, thrilled with their little day adventure, babbles on while Vivian "stares out emptily ahead."
Juxtaposing Pretty Woman's happily-ever-after ending with J.F. Lawton's original ending, the differences are plain to see and the effect of the film is without doubt much darker. It's not surprising that when Disney sought to turn the film into a blockbuster hit, they ditched the gritty ending, one that is in fact more often the reality for prostitutes, for the more enticing fairytale ending. That being said, I don't think the film is entirely disconnected from the reality of prostitution.
If you pay attention, you see the hints: the police man's investigation into an alleged murder of a prostitute at the very beginning of the film, tourists photographing the crime scene, Vivian and Kit's debate over working for a pimp named Carlos, Vivian's explanation to Edward about how she ended up where she was, Edward's lawyer Philip's treatment of Vivian and the climactic ending with Philip attacking Vivian in an effort to force her to have sex with him. For the average viewer however, all these moments recede into the background of Vivian and Edward's love affair without any context.
So here's the context: prostitution is far from glamorous. 70% of women in prostitution experience physical assault. They are additionally 40% more likely to be murdered when compared to the average American woman and 60% more likely when compared to the average American male. Fortunately, however, awareness of this reality is rising.
In the 25 years since Pretty Woman was first released, views on prostitution have changed dramatically. Research shows that the vast majority of women do not select prostitution as a career. Rather, they are forced into it through physical and psychological abuse or enter the trade due to the constraints poverty imposes on individuals and families. That is not to say, however, that there are not women who do engage in sex work on their own volition. There most certainly are. Unfortunately they are vastly out numbered by women and children who were never given the option of making that decision for themselves.
Building on this new perspective, anti-trafficking activists and women's rights groups have endeavored to change the language and the policing of trafficking so that women and children are seen as victims first rather than criminals. In many ways these groups been met with success. Aside from the Justice for Victims of Trafficking Act, which is currently stuck in Congress due to debate over a piece of the bill regarding abortions, Congress has passed well over a dozen bills aimed at beefing up funding for law enforcement training and service centers just in the past few months. Numerous states in turn, have passed Safe Harbor laws protecting children from criminalization as well as vacating convictions statues which provide trafficking survivors with a clean slate.
Watching the film for the first time now was fairly entertaining. Gone are the days when anyone would use traveler's checks to go on a shopping spree or a Walkman in the bathtub for that matter. Beyond traveler's checks and Walkmans however, a far more serious change has is underway – that is, society's view on the sex trade. In this light it's unsurprising that Pretty Woman takes the heat it does from anti-trafficking activists who consider the film to be a blithe and tendentious depiction of prostitution. But does it deserve the flack we give it? If we consider the ways in which views on prostitution and awareness of sex trafficking have changed just in the last 25 years, it seems possible that Pretty Woman could soon turn from Disney fairytale to cautionary tale and perhaps even a tool for anti-trafficking activists. Fortunately, I don't think we'll have to wait until the 50th anniversary to see.
– Hannah Eddy, 3 Generations
http://www.newsweek.com/sex-trafficking-and-pretty-woman-fairytale-315927
http://www.today.com/popculture/julia-roberts-richard-gere-re-create-iconic-pretty-woman-scenes-2D80567587
http://time.com/3756689/pretty-woman-prostitute-julia-roberts-richard-gere/
http://hollywoodlife.com/2015/03/24/pretty-woman-ending-25-years-later-julia-roberts-richard-gere/
http://www.vanityfair.com/hollywood/2015/03/pretty-woman-original-ending
By: Isabel Stub, Social Media Intern
The Justice for Victims of Trafficking Act has had major bipartisan support since its introduction to the House on January 7th, 2015. The bill would create federal funding for human trafficking victims by imposing heavy fines on convicted traffickers. The entire process, from introduction to the Judiciary Committee's approval last month, has been marked by neutrality in terms of partisanship, a testament to our nation's collaboration when it comes to eradicating sex trafficking.
Recently however, one particular issue has come to light which may prevent the bill from passing. This week, Democrats withdrew support for the bill after finding that it contains Hyde Amendment language, which is a legislative attachment that restricts federal funding for abortions and other health services. This is a conservative partisan amendment to a bill that was previously conceived to be bipartisan. To compound the problem, the anti-abortion clause would remain unchecked for five years, instead of undergoing annual reevaluation.
Kierra Johnson, executive director of the group Unite for Reproductive & Gender Equity, released a statement, "No woman should have her decision about abortion made for her because she can't afford medical care, especially those emerging from exploitation and in need of comprehensive health care like trafficking survivors, who are overwhelmingly young women." These words resonate with a powerful argument that supports a more accepting and compassionate understanding of the needs of rescued sex trafficking victims. To restrict a woman's access to choose what happens to her own body, regardless of whether a pregnancy is a result of rape or accidental circumstances, is based on fundamental lack of empathy and a denial of pragmatism. Abortions happen and will keep happening even if conditions are unsafe and unregulated. The safety of women is at stake, especially for those who cannot afford medical attention or who have already been ostracized by society by means of abuse or trafficking.
Regardless of one's perspective on abortion, it is undeniably a partisan issue, which is halting the progress of the bill. It comes down to language. Senate Minority Leader, Dem. Harry Reid, took the floor on Wednesday morning to address the conflict, stating, "Today, the Senate is doing a good deed. We have a chance to address human trafficking. In this legislation that is meant as an outline to stop child trafficking and human trafficking generally, there is a provision in this legislation dealing with abortion. It has nothing, nothing to do with this."
We need to demand action. With the oil boom in North Dakota attracting more sex trafficking than police and rehabilitation resources can manage, we need funding now and if the Hyde Amendment language is not removed, it gives traffickers more time to expand their business and destroy the lives of women and children. This is a human issue, a narrative told by people living in unfathomable conditions. But their voices cannot be heard. Write to your senators and expedite the passing of the bill without partisan legislation. Help victims regain their humanity.
Read the full version of the Justice for Victims of Trafficking Act