By Jane Wells
Joyce, a retired mental health nurse from Detroit Lakes Minnesota is Native American from the White Earth Nation. She just returned from Cannon Ball North Dakota where she served in the medical tents at Standing Rock, taking care of water protectors trying to stop the Dakota Access Pipeline. We have had the privilege of receiving her direct accounts on what it is like to provide medical care to the water protectors. Many protectors are trained in peaceful direct action and yet they are brutally targeted by an ever-more militarized police force. They go out to protect the water rights of the Standing Rock Sioux Nation and return wounded. Here is a glimpse of what it's like just beyond the front lines, told in Joyce's own beautiful words:
"I just left Standing Rock Main Camp at 5 AM. I left with the promise of returning. Patients came in for post assault treatment and were ready to go back to the front line. WARRIORS. EMOTIONS RAMPANT. Mine. We saw 3 gunshots. All rubber bullets/beanbags. 20 or more cases of hypothermia. Many sprayed. Skin washes. Eyes. Asthma. Strep. Injuries, etc. LAND OF THE BRAVE. Amen.
The medic tent is like being on a MASH set. It's a very small space. It has a wood stove the in center of the room. Two cots. Boxes of supplies. Staff includes a doctor if lucky. Paramedics. Nurses like me. ER Staff. Medics work well with herbal treatments. Herbs for soaks. Skin treatments and teas for many maladies. We treat hypothermia. Skin washes to cleanse from being sprayed with mace and pepper spray. We saw three bullet hits. Rubber bullets and bean bags.
Night time at camp. Bright starry sky. Smoke from fires circling throughout. One night at about 3 AM a drum started its healing beat. Singing. Drone of circling plane trying to annoy us with its nightly routine. Native sounds overpower. Very beautiful.
Working at camp site near the medic tent I met and heard stories from people from all over the country. All on journeys that led them to this place at this time. I had a patient that had been at camp 4 days without methadone. Sick from withdrawal. I told her she had to find a way home today. We as a team helped. She left and like others she will be back.
Medic tent worked well with herbal tent, at one point a truck pulled up to medic tent and dropped off a young blonde blue-eyed girl. I knew in 10 seconds that she was in trouble. She was gently making hand gestures suddenly expressing fear in her eyes and body. Another medic was with us. We got tea from the herbal tent knowing the tea would relax our patient. When asked when she had eaten last it had been a day before. We gave her soup. She would go back and forth from her world to ours. She would gently touch us. She gave me a card. Insisted on me reading it to her. Just me. I read it. The girl was, in our eyes and our assessment, was experiencing mental health issues. She was sent to the local hospital via ambulance.
The medic tent has staff that have been here since day one. They are so flexible. They have to be. So many cooks in the kitchen. Knowledgeable. Caring. Each with Skills. I felt proud to be a part of this. Medical people from all over the country come to help.
We can be instantly thrown into action. I am amazed at how strangers blend into being medics. One purpose. Treating people that we don't know. We ask about allergies. We have no medical history.. but we obtain what we need to treat safely. At times we work without power. In a dark small tent. I have seen things I have never seen before. When the warriors passed our medic tent on their way to the Front Line we stood and proudly let them know that we are with them. Overwhelmed. Emotional. Knowing they were weaponless. Determined to go in peace. But they will come back to us with wounds. Gunshots. Sprayed. Hypothermic. But no broken SPIRITS.
We treat them and when we are done their unbroken spirit wants to go right back. Shooting bullets of peace at police and DAPL. I, as an elder with health problems- I did what I could and left the heavy lifting to the young and healthy. I went on my own guilt trip. The team never added to that. I became flexible and self forgiving. Because of the small space we had I would be outside the tent policing who could go in and verbally triage. If I could I would wrap wounds. I felt so safe. We had two doctors on hand. Paramedics who are trained for situations like this. ER techs. Nurses. I am so humbled these medics are donating huge amounts of time to serve other water protectors. 
I shared a split second moment of what's happening. There are always rumors swirling through camp. The police are coming to camp to tell us to go home or to jail. It was about ten at night. Suddenly sirens were in camp. It was over fast- it was only an ambulance leaving.
What was great was being acknowledged as a seasoned medic. Being a retired mental health nurse worked well for me. I feel that all walks from the health world were shown respect and appreciation. I will always appreciate the humor of medics after a long day. The tents prepared to come to Standing Rock if the need arises. Medic tent/general medicine. Alternative herbal therapy. Minerals and spices. Mental health tent. Women's health. Midwifery. So thankful for all."
Joyce appeared in 3 Generations' film, Native Silence, a solemn account of the legacy of forced adoption on Native American children, torn from their tribal communities and placed in foster care and boarding schools. Her story is available on the website of 3 Generations. We remain grateful to Joyce and all her fellow volunteers.
Also available on The Huffington Post.
By Jane Wells
Last month I visited CannonBall North Dakota to bear witness the protests against the Dakota Access Pipeline.  This $3.7 billion crude oil pipeline is under construction to carry oil from the Bakken shale oil fields in Northern North Dakota across the Missouri River to Illinois.
It controversial because the current path of the pipeline traverses Native American sacred ancestral lands and will cross the Missouri on Standing Rock Tribal lands, in so doing it threatens the Treaty rights of the Standing Rock Sioux Tribe to clean water.
I was lucky to go with Dr. Biron Baker, one of the main protagonists of our film A Different American Dream, and our director Simon Brook. In addition we met up with Dawn Bjoraker and Amy Arndt, two women whose stories we have featured in our films Native Silence and Lost Hope.
The camps are places of activity, prayer and joy, as well as focused determination to stop the pipeline. We soon learned that despite the use of attack dogs by security guards, police road blocks and the presence of National Guard, the two camps: Sacred Stone and Red Warrior are places of peaceful action. Drugs, alcohol and weapons are forbidden at both camps. Prayer is the tactic of choice. The assembled representatives of over 300 Indigenous tribes from across the Americas, were there to be PROTECTORS of water and land rights, not protesters.
Dr. Baker introduced us to LaDonna Tamakawastewin Allard and her colleague Leta Killer-Bailey.
Both women are instrumental in the success of the fight against the pipeline. Since April LaDonna has made her land available to those trying to stop the pipeline and has emerged as the leader of the efforts. As the tribal historian and a grandmother of 17 she has a lifetime of wisdom and knowledge as well as passion for the preservation of sacred lands and burial sites. Last week she came to New York to speak about the Dakota Access Pipeline on Democracy Now and at a Black Lives Matter Protest and at the UN,  my husband Jonathan and I were honored to host her while she was here.
When we visited Standing Rock Leta Killer-Bailey had just finished making a map of the camp. A seemingly simple but vital effort, this action has literally saved lives. Now ambulances can easily locate a sick person at the camp and get them the life-saving help they may need. We learned there are many things needed to support this protest. Winter is coming, people living there need water, sanitation, shelter, schools for their children, clothes, food and to be heard.
At 3 Generations we are fully committed to bringing the stories of the water protectors to our audiences and have no doubt that this action is perfectly congruent with our engagement around A Different American Dream. We will post news and updates in real time on the Facebook pages of the 3 Generations and A Different American Dream.
Those at Standing Rock are going to stay until the pipeline is stopped. We will support them in every way we can.
In 2014 we had the honor of meeting David Archmanbault II and hearing his words of wisdom about the Standing Rock Sioux Tribe and their rights to water access now and in the future. These rights are now seriously threatened by the construction of the Dakota Access Pipeline – an environmental disaster by any standards.
Please join us and #StandWithStandingRock. Please share this video and join the protests.
#RespectOurWater
#NoDakotaAccess
By Jamie Brandel, 3 Generations Summer Intern

 The vlogger (left) having fun at a North Korean water park
As a millennial, social media has been a powerful tool in the fight for human rights — whether it be the Arab Spring or the Human Rights Campaign's equality logo. Whatever the cons of the Internet may be, it is without a doubt a profound force in raising awareness of global issues.
So when I saw the North Korean fun vlogs from Louis Cole, better known by his Youtube name FunforLouis, the first word that came to mind was "strange." If the word North Korea wasn't in the title, you may never know that Louis was vloging about one of the most frightening places on Earth. If you have ever turned on a TV before, you probably know this about North Korea. There's quite a disconnect between this video and reality. You also probably know that getting into North Korea isn't an easy task. We don't know much about the country for a reason: It blocks out any "corruption of its society" from the outside world. So it seems pretty obvious that Louis must have agreed to some guidelines, also evident by the controls set up in his visit, like Ms. Kim – one of his "tour guides."
Whether he was paid by the North Korean government or not, as some media outlets are reporting, he is clearly complicit. Like Shane Smith said, "You're not a tourist — you are on a tour."
Going to visit the monuments that pay homage to North Korea's authoritarian leaders, visiting a waterpark and schools while remaining silent on reality, these things make him just as guilty in recreating a very orchestrated image. The secretary of Joseph Goebbles, who is now the subject of a new documentary A German Life, claims she had no idea what the Nazi regime what really up to. Just another job. She says she had no idea what happened when her friends disappeared; this obliviousness is one in the same. Under the guise of some cultural relativist argument, Louis says that the Western media only portrays this horrible image of North Korea, and it's his job to show the culture and focus on the positive. At one point he tells the camera that it would cost him 200 US dollars, even as a visitor, to get probably a couple minutes worth of data. But no problem there. So does passive acceptance and willful ignorance equate to innocence? No, not really.
Louis responded with another vlog after he received a large amount of backlash. Two things struck me: One is his mention of his two favorite places he has visited, Rio and Cape Town. He mentions that Cape Town has one of the largest wealth disparities in the world. And yet, anyone who has visited Cape Town will tell you that no one, absolutely no one, would visit Cape Town and not include the images of apartheid-era settlements and racism. It is inherent in their culture and in every South African's identity. So, quite the opposite of showcasing North Korean culture.
Secondly, Louis talks about how he just left out the clips of him talking to people about their realities and how bringing happiness to people, like when they surf, was a means of change.
Now, no one is asking FunforLouis to be an investigative reporter, but purposely leaving out the truth of North Korea is the ultimate bystander effect. If you act as if the people around you aren't under constant threats of violence, it's almost like it doesn't exist. Well, it does.
Change won't come from momentary "happiness" like Louis says but when silence is broken.
I am a new employee at 3 Generations. One of my responsibilities is to work with my 3G colleagues to find relevant news stories about the topics that we at 3G are passionate about and want to share with our followers through social media channels. One of those topics is sex trafficking.
Last night, shortly after human trafficking survivor Ima Matul finished speaking, an associate editor at reason.com posted a piece entitled 'Sex Trafficking Survivor' at Democratic Convention Not Actually Victim of Sex Trafficking. I found it because as I was searching for stories about trafficking this morning, this popped up as the second story listed under a google news search for "trafficking".
Labor trafficking and sex trafficking are forms of modern day slavery. Under U.S. law, both forms of trafficking are currently qualified as human trafficking under the Trafficking Victims Protection Act (TVPA). Last night, a brave survivor of human trafficking spoke at the DNC about her experience being trafficked and abused.
Unfortunately, the DNCC representative who published the list of speakers in a press release yesterday listed Ima Matul as a 'Sex Trafficking Survivor & Advocate'. However, 'sex trafficking' was never mentioned in Ima's speech or in Senator Klobuchar's introduction of Ima.
Yes, it was a mistake by the DNCC representative who published the press release, but the title of this article by reason.com is very misleading to readers and never mentions that Ima was repeatedly physically abused and warned by her trafficker that she would be beaten and raped if she told police. And sadly, the 125 comments the blog has already gathered since being published 16 hours ago include many comments criticizing or doubting Ima's personal story of being trafficked. And, if you were to do a quick search on a search engine right now about news articles covering Ima Matul's speech, who would find that the headlines in the Huffington Post, ABC News, LA Times, and other major news organizations use the words 'Human Trafficking' and not 'Sex Trafficking'.
Labor trafficking and sex trafficking are both horrific human rights violations. Ima's message is vitally important and this article from reason.com is political manipulation and an egregious disservice to the fight against human trafficking.
____
Ima Matul is Chair of the National Survivor Network and was recently appointed by President Obama as a member of the United States Advisory Council on Human Trafficking. You can find out more about the work that Ima is doing by following her on twitter @ImaHope4Freedom
Click here
to read the full article from reason.com
Blog written by Kelly Thoma, Production Manager at 3 Generations
Today, we wanted to share an opinion piece written by one of our Advisory Board members, Rabbi Lee Bycel. Lee recently went to Amsterdam and Berlin to interview Syrian refugees about their journeys and to learn more about the the fears Lee and others have about these refugees.
We are grateful for Lee's support of 3 Generations and hope you will read the full article as we think this piece is an important one to share. For the full article, click here.
Here is an excerpt from the article:
"In these dark times it is courageous people in their thirties like Duezen, Chantal and Mazen, and many others, that shine a bright light and seek to build bridges of understanding and reconciliation. The Syrian refugee crisis is the great moral challenge of our time; it may very well define who and what we are as a nation. Now is the time to grant asylum to more refugees and to do proper vetting so that we can protect our safety. Now is the time for the Jewish community to host Syrian refugees in their communities. Now is the time to open our arms and embrace the refugee. It will take courage. However, the risk in not acting is that of losing the soul and character of our people – and that is a risk we cannot assume."
Lee is the rabbi of the Congregation Beth Shalom in Napa, California. He is also an adjunct professor at the University of San Francisco, currently leading courses including 'Holocaust and Genocide' and 'Contemporary Political Prophets'. In addition to serving our our Advisory Board, Lee is a member of the United States Holocaust Memorial Council.
By Lindsay Gebhart, Director of Development
In June Facebook once again changed their algorithm, but to most people the difference was subtle. To the many nonprofits who have "pages" on the site, it was not.
To sum up what Facebook changed, they decided that there wasn't enough original content on the site i.e. "I went to the grocery store today, and they were out of strawberries!" and in their place were pics of memes, shares of silly twitter statuses, etc. Facebook was created so people who know each other could communicate, and they wanted to return to that original purpose.
Here are their stated changes and their purpose:
1) Posts from friends and family will get top priority on users' News Feeds.
2) After those posts Facebook prioritizes posts that "inform" and posts that "entertain."
3) Then they prioritize posts with "authentic communication."
These are all great in concept, but they basically mean that:
1) "Pages" don't show up nearly as easily.
2) Only "Page" content with "authentic communication" tends to appear on News Feeds.
What is authentic communication? We quickly noticed one thing it is NOT: A link to an outside website.
Facebook pages serve a lot of purposes for nonprofits. They educate about issues the nonprofit is working to solve; they galvanize people to sign petitions or call their elected officials. They also serve as a way to fundraise, though generally in a small way.
One of the best ways for us to raise money is through matching funds, and we have been fortunate that Global Giving has offered us matching funds three times in the last six months. They have been an incredible boon to our small organization, but the only way to get the funds is if money is donated by an individual then matched by Global Giving.
We have posted links about this amazing opportunity and gotten very little response. We were confused and then we noticed that these posts were not even appearing on our own Timelines, then we looked at the page and saw the post reach: The first day 113 people were reached. The second, 43. 43 out of 2,150 likes!
Granted, Facebook doesn't exist to raise money for nonprofits. But when you take away a huge tool for small nonprofits to communicate with our constituents our hands become very tied.
That said, if you want to donate to our Global Giving matching campaign go here
The longer the refugee crisis in Europe continues the more vile stories seem to emerge about the horrific crimes happening concurrently. Here are the responses of our staff to today's news that refugees who cannot afford to pay smugglers are being sold for their organs:
Lindsay
Is this real?
That is the first thing I think when I read a headline like, "Refugees who cannot pay people-smugglers 'being sold for organs.'" My mind starts to do backbends. This seems like a plot of a Hollywood horror movie, some sort of modern "Hostel" nightmare. Who would do such a thing? What sort of person could kill others for a profit? After I think that, I realize, "Lots of people could, and lots of people have."
History shows that people kill one another for all sorts of reasons, and money can easily be a primary motivation. This is what we have: 65 million refugees, an unprecedented number, surrounded by people ready and willing to take advantage of those numbers and their inherent anonymity. With those numbers of course you could kill and get away with it. Of course someone has found a way to make money off of it. Of course, like many other real-life horror stories, many will simply be unable to believe it. But we must believe these stories, because ignoring them or denying them takes us one step closer to even larger human tragedies, like genocide.
Kelly
This is extremely depressing and seems like the plot of a horror film rather than the grotesque reality that it sadly is. I realize that organ trafficking has been going on for a long time, but to target and then murder migrants who are at an extremely vulnerable moment in their lives makes me sick.
Hamp
This is a disgusting example of the kinds of atrocities refugees and trafficking victims could potentially face on a daily basis. I had heard of "organ harvesting" before, but to read these articles and contextualize it within a European perspective is completely unthinkable. Clearly though, organ harvesting is a real and systematic operation affecting large numbers of people. It is one of the many horrors facing victims of human trafficking; it is also one of the many sub-crises within the ongoing and overarching refugee crisis.
Jane
Criminals are adept at profiting from other people's tragedies and as more are displaced the more successful and evolved the criminal element becomes.  First we learned of smuggling people out of conflict zones (arguably that was only to help them), then we learned of organized human trafficking networks including sex trafficking of children and today we heard of organ harvesting.
But wasn't it always thus? The use of humans as cargo is hardly a new problem. Slavery has existed for thousands of years along with prostitution and sexual exploitation of the vulnerable and the young. Sexual violence during the Holocaust and in the refugee crisis after World War II was widespread, albeit little discussed and taboo for many years after.
So why does today's revelation shock us so? Why does the idea of killing a person for their organs strike us as fundamentally worse than someone being sent to an inevitable death on an unseaworthy boat?
For some of us it might because the desecration of an intact body violates religious edicts and beliefs.
I guess for me it is the idea that at their absolutely most vulnerable moment, robbed of hope, they had their bodies taken apart.  When we are no longer whole we have lost our true selves. Aren't we all more than the sum of our parts?
Article published July 5th, 2016 in the The Independent: Refugees who cannot pay people smugglers 'being sold for organs'
For many of us airports are a necessary evil and for others they represent places of excitement, of partings and unitings. Tears of sadness and tears of joy. Recently some of them have become places of tragedy, terror and fear. Not all airports look the same, are as big as others or offer the same services, but across the globe some just stand out as special places. For me Istanbul Ataturk airport is such a place. If you've been there you'll never forget it, it's a place unlike any other I have visited. And not because of building itself.
It is so much more than the meeting place between Europe and Asia, more than a place to change planes, more than a regional hub, more than a place where Starbucks sits next to Turkish coffee. It stands out because of the people. Over 10 million people come and go each year, transiting from Asia, Africa, Europe, the Americas and Australia, it is certainly cosmopolitan. But to me why it stands out is because it is the absolute melting pot of our world today. A crossroads of more diversity than any other place I've ever visited on earth. And that makes it special and truly beautiful.
This week's bombing, the terror and the loss of life, is an assault on the best of everything and everyone our globalized world has to offer. It shattered the hopes and dreams of that beautiful melting pot of humanity. An attack on that place IS an attack on us all.
Here at 3 Generations we mourn the loss of life, we pray for the injured and those who lost loved ones. We also believe that what happened at Ataturk airport, thousands of miles from here, puts our faith in common humanity to the test.
But in Istanbul, life moves on, planes are flying and the people of Istanbul and particularly those of Ataturk airport, are not daunted, they are working and healing and going about their business, an example to all of us. We salute them.
Jane Wells
We are excited to welcome our newest staff member, Kelly Thoma, to the 3 Generations team. Kelly will be taking over for Luke Sutton who recently left us to return home to Nebraska pursue his graduate degree. We wish Luke the very best in his next steps, and we are excited to have Kelly on the team.
Before joining 3G Kelly spent the last 3+ years at the Bill & Melinda Gates Foundation headquarters, working on both the Global Development and U.S. Programs teams. She also had the opportunity to serve as a summer fellow in Kenya at an organization operating micro-clinics in the poorest areas of Nairobi.
Kelly received her BA in Medical Anthropology, Global Health and Drama Production from the University of Washington. She has always loved documentary films and is thrilled to be a part of a team where she can pursue that passion. Until now, Kelly has lived in the Pacific Northwest and just recently moved to New York from Seattle, so she is still struggling to come to terms with this thing called "heat." She currently enjoys volunteering with Rooftop Films in Brooklyn and lives on the Upper West Side with her husband.
By 3G Intern 
Luis Rivera-Nesrala
Last Week Tonight: A poignantly daring late-night news show hosted on HBO by John Oliver. The show's success is in large part a reflection of Oliver's ability to brilliantly marry award-winning reporting and in-depth research with his unique British satirical sense of humor.  Still, the reason that millions of viewers keep coming back each season is that Oliver acts as a proxy for his viewers, unflinchingly expressing the justified righteous rage that many of us feel on a range of social and political issues.
Last week I got on YouTube and realized that the newest episode, Puerto Rico, was out. Never mind that I'd be late to class, I clicked on it immediately.
As a Puerto Rican, I was thrilled that the economic crisis was finally being covered on a much-deserved international platform.
Even though the segment was characteristically funny and well-researched, by the end of it I was left with nothing more than a jumbled list of economic and political reasons as to why Puerto Rico is in the hole.
I was unmoved, unsure why I should care about this issue.
Oliver's power to mobilize and galvanize people to a cause is perhaps his most powerful tool. But where was it this time? More than simple recognition of the problem, I hoped that the segment would finally knock some sense into the millions of Americans who have no idea why they should care about Puerto Rico. For once Oliver failed.
Now it's my turn.
Too many people are probably wondering, "How this crisis is more relevant to us as Americans than the Greek financial crisis? After all, we don't live on the island. We don't pay $7 for a gallon of milk, or a 13% sales tax. And we certainly weren't responsible the $70 billion debt that the Puerto Rican government recklessly racked up."
So, why should you care?
Why? Because most Puerto Ricans aren't responsible for the debt either. And now they're paying the price for it. Let's break it down:
1) First, Puerto Ricans are Americans.
We are born with US social security numbers, US citizenship and we hold US passports (there is no such thing as a Puerto Rican passport). We are full American citizens in every sense.
2) Fifteen years ago there were close to four million of us living on the island. Today that number has plummeted to 3.5 million. That means that the island has experienced a 7% decline in population.
"But 7 percent??"  you might say. "That means that 93% of people are still there. How is that even a big deal?"
Let's put that into perspective.
If 7% of the US population fled the country, we would lose the entire population of the State of Texas — the second most populated state in the US. The implications of that are huge! Economically that would be like losing almost 10% of the country's entire economic production and income. And when people have less income, they spend less. When they spend less, companies produce less. And this leads to even more people losing their jobs. For many in Puerto Rico, the only option is to head to the mainland to find work.
Last year alone over 80,000 people left the island.
The bigger picture? Many of these people are doctors, lawyers, engineers, teachers and other highly educated people on whom the economic recovery will one day depend.
3) How the island fell into this toxic cycle of unlimited borrowing is largely connected to the job market,  but it is too intricate to explain in a few words.  So let's focus on the consequences of this economic catastrophe.
Due to some unjustifiable laws and obscure amendments likely introduced by Senator Strom Thurmond in the 80's, Puerto Rico cannot file for bankruptcy like any of the fifty states. This means that the 330,000 people who paid into their retirement funds for their entire working lives aren't receiving their retirement pensions because the government has wiped them clean and can't replace them. And even if they wanted to come out of retirement, the chances of finding a job in the overheated labor market would be nearly impossible. This means that food stamps, housing assistance and unemployment benefits will be slashed and the disenfranchised will continue to suffer. This means that the electric grid on the island will continue to suffer major cuts, prohibiting hospitals from operating, schools from opening, and people from getting basic services.
This was an economic crisis. Now we are on the verge of a humanitarian crisis.
—————-
The point I'm hope to make is simple.
The Puerto Rican people are not Greece halfway around the world.
This problem is your problem: now, or later.
Because we, as Puerto Ricans, are Americans.
We are Americans facing the very real possibility of becoming a lost generation. For millions of people, the inability to pay for higher education or find jobs is a daunting reality. For millions of people who have relied on government help, the massive social safety networks have expired.
You must care about Puerto Ricans because we are not just some islanders who live in your favorite vacation spot. We are the beautiful and intelligent Miss Universes, unrivaled in titles. We are the Major League Baseball players that your kids look up to and aspire to be. We are the Supreme Court justices that proudly guard and preserve the U.S. Constitution. We are the entertainers you pay to see on Broadway, whose CDs you buy and whose movies you watch. We are the people of all genders, colors, sexualities and religions who don the uniform and travel to places beyond our homeland to protect the democracy that we all enjoy.
All figures and talking points aside, we are American.
We are Americans who have lost, and will continue to lose, homes, health care and access to education. If nothing is done, and prices keep increasing, many of us may even lose access to proper nutrition.
Puerto Rico's previous governors and their grossly negligent administrations let their greed and power affect the fates of millions while they comfortably spent their millions. Now those people are penniless and being taxed at higher rates than any other place in the United States, even as they make less.
All of this in an attempt to pay off an exorbitant debt that can't be paid.
This is not the Puerto Rican people's fault. They have been exploited and now it is the moral and legal obligation of the federal government to protect the citizens living under its constitution.
This is not a partisan issue. This is not Obama. This is not Fortuño. This is not Ryan.
Esto se trata de la sobrevivencia del pueblo Puertoriqueño.
You can watch the video here
You can view a PDF of the graphic here
3 Generations' Syria Intern Luis Rivera-Nesrala will be offering his vision on the importance of regarding the value of Syrian lives as equal to life in the West this Saturday at the Posthuman Glocal Syposium in New York City. He believes that in the West a dangerous narrative has taken hold which relegates Syrian refugees to the status of second-rate humans in an attempt to justify the reluctance of many Western nations to offer humanitarian aid. Rivera-Nesrala's presentation is entitled, Syrian Refugees: The Other Does Not Exist, and will feature a clip from 3 Generations' film Three.
Please check out the graphic below that will be presented in conjunction with his talk:
In conjunction with the New York Posthuman Research Group, New York University is holding its second annual Posthuman Glocal Syposium on the weekend of April 22nd. This year's conference, titled Posthuman Futures, calls on a wide range of scholars, philosophers and NYU students to come together for a productive two-day dialogue on how we envision the future that comes after humanity in the postanthropocene era.
A complicated topic, posthumanism is an ideological and social movement founded in the philosophical discipline following humanism. While there are a multitude of disciplines that fall under the umbrella of posthumanism, the main idea is that in the future the human race will inevitably evolve to the point where we cease to be human. The looming questions with which each of the subgroups concerns itself is how to achieve the desired state of posthumanism, and what such a society would or must be like.
At its most basic level, posthumanism can be seen as a critique of humanism, the ideology and philosophy that places the human subject at the highest level of importance in the biosphere and universe. The posthuman philosophy seeks to establish a postanthropocentric society, in which all human life, regardless of race, gender, sexuality, etc. is equally as valuable as every other organism and inorganic being.
If you would like to learn more, a link for the conference is here. 
On Saturday, March 5, 2016, our short film A System of Justice had its world premiere at the Manchester Film Festival. Executive Director Jane Wells was on hand and thrilled to share this powerful story with a global audience. We thank all of the dedicated individuals who made this film possible.
We are proud to partner with the nonprofit organizations Resurrection After Exoneration and The Innocence Project to amplify Glenn Ford's story. Ford suffered great injustices throughout his life, and we are honored to offer our intimate portrayal of his final days and legacy.
By 3G Executive Director Jane Wells
Pretty much everything. How can we talk about the genocide in Darfur without referencing sexual violence towards women? Or comprehend ISIS without recognizing their treatment of Yazidi women? At 3 Generations some were skeptical when we broadened the scope of our human rights mission, and feature documentaries, from genocide (The Devil Came on Horseback) to include sex trafficking (Tricked). Thankfully the world is finally getting on the same page. Hopefully no one will question the place of environmental degradation (our new feature A Different American Dream) in the chalice of social justice.
In June 2014 I went to North Dakota for the first time. I had heard at some of the screenings of Tricked, that young Native girls were being kidnapped off reservations to service men working on the oil fields of the Bakken Formation — the largest shale oil field in North America.
Over the course of a week I traversed the Bakken in search of my story — one about sex trafficking. What I had not expected was to be seduced by the stunning beauty of the land, nor was I prepared for the extent to which the environment was being ravaged and desecrated. I found a new, parallel story to the trafficking one, — a story I thought of as the rape of Mother Earth.
And so the idea for our new feature film A Different American Dream was born. Over the last 20 months I have been back to North Dakota six more times. This week I came to show the finished film to the members of the MHA Nation of Fort Berthold who are the principal characters in our film. It was a completion of sorts, bringing two world full circle.
As I flew home I saw this headline in the local paper: 'Despicable' sex trafficker gets 33 years in prison.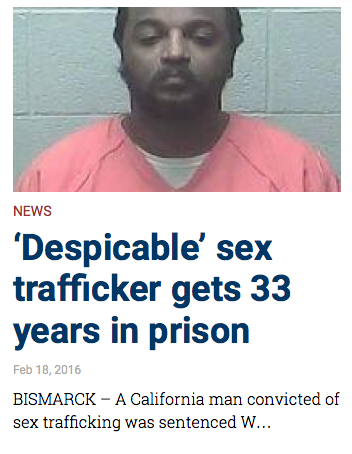 The investigation that lead to the conviction of the trafficker, Keith A. Graves, began in July 2014. When I visited the Bakken the first time he was actively trafficking young women for sex exactly as the whispers I heard had described. How fitting that he found justice as our film was finished.
Some people ask: What is the method at 3 Generations? Here it is: Everything is connected. Sex trafficking, genocide, environmental degradation. All these issues are happening side by side, often intertwined and very often under our noses in plain sight.
Today's news was especially gratifying because only a week ago we were in Miamisaluting and honoring law enforcement professionals who have worked tirelessly to bring sex traffickers to justice. In a video we premiered in Miami last week we highlight how hard it is to prosecute sex trafficking.
In the Graves case today not all of the victims were able to come forward and testify. It is no easy task for a traumatized victim to face their abuser, least of all in a public court of law. The ones who did testify were very brave and impactful. As one juror reported, "Watching people relive it (the violence) right in front of you, that was difficult. You could almost sense the anxiety, the terror, in some of the victims."
This is the change we fight for at 3 Generations and this is why we make films about subjects as diverse as sex trafficking, climate change, genocide, the refugee crisis in Syria and Death Row exonerees.
At the end of the day a broad-minded approach to social justice moves every issue forward. Sexual violence included.
By 3G Syria Intern Luis Rivera-Nesrala
Rivera-Nesrala is a third-year student at New York University where he is studying Economics with a minor in Arabic. His chief interests are in geopolitical economics, particularly in regards to the Middle East. He is the son of an active-duty United States Army service member. 
Nearly fifteen years after the unprecedented attacks of 2001 forced thousands of military men and women to pack their bags and head out over night, the landscape of U.S. warfare has been entirely transformed. Given the ongoing and evolving efforts to defeat those who seek to harm our nation, it is common for many soldiers today to have completed numerous deployments, some upwards of five.
While war and active combat are undoubtedly dangerous and trying situations, most of us fail to realize that the men and women who valiantly fight for our safety thrive in these conditions. This is where their skills and years of training are verified and validated. While those of us not in the service may find it difficult to imagine ourselves in such situations, the members of our five military branches are wired to excel in these high adrenaline environments where survival mode is always activated.
Herein lies one of the biggest misunderstandings for civilians: After performing in these high intensity, chaotic and often lawless settings for months and sometimes years, the most difficult part of fighting a war can be reintegration upon return. When these men and women return to the structure and comforts of the United States, after having lived in often war-torn nations, seemingly simple things like driving, being on paved roads, sleeping in their own beds, and next to their spouses can all be highly disorienting.
For those with children it can be tough to retake the role they played in their children's lives before deployment, which is necessarily assumed by the parent who stays home. Returning to reassume these responsibilities can be a delicate act to balance and can place great strains on spousal relations.
For those with partners the process of acclimating to involving one another in daily routines and decisions can be trying after both individuals have learned to live independently for long periods of time. For others there is difficulty in returning to work and taking orders from fellow servicemen and women who have not had the experience of being downrange.
The problems of reintegration are difficult to foresee and can manifest themselves in many ways from person to person. The one certain thing, however, is that no man or woman who fights for this nation returns the same. While the recent overhaul of the Veterans Affairs Department by the Obama Administration has done a great deal to bring to light the neglect in care that many veterans experience, there is a great deal more that must be done.
Despite the need for improvement across the board, the most crucial of all of these necessary improvements is not one of policy, funding or program availability. Instead, it concerns the unspoken, institutionally stigmatized mentality that discourages these men and women from seeking the help that they need for fear of being branded unfit for service, combat or promotion and it must be fixed.
This looming expectation that each member return entirely unaffected only encourages the festering and worsening of these internalized trauma. Far too many men and women are thus driven to adopt the mentality to simply "adapt and overcome" in spite of the reality that many among them face challenges brought on by their experiences at war.
We have a pressing responsibility to the brave men and women in the service to provide them with the reintegration assistance that they indisputably merit. This should not be a political issue and if in war no expense is spared, neither should a single cent be withheld to provide programs like John Nash's Combat Veteran Cowboy Up to those who need it. Programs like his are crucial to the healing process of those affected by the service because they provide the support of an empathetic system in which they find the company of others who share in the experiences.
While we must be sympathetic to the needs of our veterans, it should be clear that we will never fully understand what they have been through, what they have seen nor what they have done for us. Still, it falls on each and every citizen to understand the urgency of assessing and addressing the needs of our veterans. The men and women of this country selflessly defend every star and every color on our flag each day they don the distinguished uniform. When retirement or the expiration term of service sees them hang their garb and unlace their boots for the final time, it comes time for us to further extend our hands and return the favor. Supporting our troops is a commitment that extends far past the years of service and combat, and it is a duty that we must all make good on.