By 3G Executive Director Jane Wells
Pretty much everything. How can we talk about the genocide in Darfur without referencing sexual violence towards women? Or comprehend ISIS without recognizing their treatment of Yazidi women? At 3 Generations some were skeptical when we broadened the scope of our human rights mission, and feature documentaries, from genocide (The Devil Came on Horseback) to include sex trafficking (Tricked). Thankfully the world is finally getting on the same page. Hopefully no one will question the place of environmental degradation (our new feature A Different American Dream) in the chalice of social justice.
In June 2014 I went to North Dakota for the first time. I had heard at some of the screenings of Tricked, that young Native girls were being kidnapped off reservations to service men working on the oil fields of the Bakken Formation — the largest shale oil field in North America.
Over the course of a week I traversed the Bakken in search of my story — one about sex trafficking. What I had not expected was to be seduced by the stunning beauty of the land, nor was I prepared for the extent to which the environment was being ravaged and desecrated. I found a new, parallel story to the trafficking one, — a story I thought of as the rape of Mother Earth.
And so the idea for our new feature film A Different American Dream was born. Over the last 20 months I have been back to North Dakota six more times. This week I came to show the finished film to the members of the MHA Nation of Fort Berthold who are the principal characters in our film. It was a completion of sorts, bringing two world full circle.
As I flew home I saw this headline in the local paper: 'Despicable' sex trafficker gets 33 years in prison.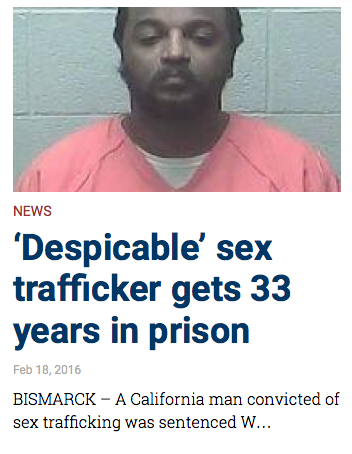 The investigation that lead to the conviction of the trafficker, Keith A. Graves, began in July 2014. When I visited the Bakken the first time he was actively trafficking young women for sex exactly as the whispers I heard had described. How fitting that he found justice as our film was finished.
Some people ask: What is the method at 3 Generations? Here it is: Everything is connected. Sex trafficking, genocide, environmental degradation. All these issues are happening side by side, often intertwined and very often under our noses in plain sight.
Today's news was especially gratifying because only a week ago we were in Miamisaluting and honoring law enforcement professionals who have worked tirelessly to bring sex traffickers to justice. In a video we premiered in Miami last week we highlight how hard it is to prosecute sex trafficking.
In the Graves case today not all of the victims were able to come forward and testify. It is no easy task for a traumatized victim to face their abuser, least of all in a public court of law. The ones who did testify were very brave and impactful. As one juror reported, "Watching people relive it (the violence) right in front of you, that was difficult. You could almost sense the anxiety, the terror, in some of the victims."
This is the change we fight for at 3 Generations and this is why we make films about subjects as diverse as sex trafficking, climate change, genocide, the refugee crisis in Syria and Death Row exonerees.
At the end of the day a broad-minded approach to social justice moves every issue forward. Sexual violence included.
By 3G Syria Intern Luis Rivera-Nesrala
Rivera-Nesrala is a third-year student at New York University where he is studying Economics with a minor in Arabic. His chief interests are in geopolitical economics, particularly in regards to the Middle East. He is the son of an active-duty United States Army service member. 
Nearly fifteen years after the unprecedented attacks of 2001 forced thousands of military men and women to pack their bags and head out over night, the landscape of U.S. warfare has been entirely transformed. Given the ongoing and evolving efforts to defeat those who seek to harm our nation, it is common for many soldiers today to have completed numerous deployments, some upwards of five.
While war and active combat are undoubtedly dangerous and trying situations, most of us fail to realize that the men and women who valiantly fight for our safety thrive in these conditions. This is where their skills and years of training are verified and validated. While those of us not in the service may find it difficult to imagine ourselves in such situations, the members of our five military branches are wired to excel in these high adrenaline environments where survival mode is always activated.
Herein lies one of the biggest misunderstandings for civilians: After performing in these high intensity, chaotic and often lawless settings for months and sometimes years, the most difficult part of fighting a war can be reintegration upon return. When these men and women return to the structure and comforts of the United States, after having lived in often war-torn nations, seemingly simple things like driving, being on paved roads, sleeping in their own beds, and next to their spouses can all be highly disorienting.
For those with children it can be tough to retake the role they played in their children's lives before deployment, which is necessarily assumed by the parent who stays home. Returning to reassume these responsibilities can be a delicate act to balance and can place great strains on spousal relations.
For those with partners the process of acclimating to involving one another in daily routines and decisions can be trying after both individuals have learned to live independently for long periods of time. For others there is difficulty in returning to work and taking orders from fellow servicemen and women who have not had the experience of being downrange.
The problems of reintegration are difficult to foresee and can manifest themselves in many ways from person to person. The one certain thing, however, is that no man or woman who fights for this nation returns the same. While the recent overhaul of the Veterans Affairs Department by the Obama Administration has done a great deal to bring to light the neglect in care that many veterans experience, there is a great deal more that must be done.
Despite the need for improvement across the board, the most crucial of all of these necessary improvements is not one of policy, funding or program availability. Instead, it concerns the unspoken, institutionally stigmatized mentality that discourages these men and women from seeking the help that they need for fear of being branded unfit for service, combat or promotion and it must be fixed.
This looming expectation that each member return entirely unaffected only encourages the festering and worsening of these internalized trauma. Far too many men and women are thus driven to adopt the mentality to simply "adapt and overcome" in spite of the reality that many among them face challenges brought on by their experiences at war.
We have a pressing responsibility to the brave men and women in the service to provide them with the reintegration assistance that they indisputably merit. This should not be a political issue and if in war no expense is spared, neither should a single cent be withheld to provide programs like John Nash's Combat Veteran Cowboy Up to those who need it. Programs like his are crucial to the healing process of those affected by the service because they provide the support of an empathetic system in which they find the company of others who share in the experiences.
While we must be sympathetic to the needs of our veterans, it should be clear that we will never fully understand what they have been through, what they have seen nor what they have done for us. Still, it falls on each and every citizen to understand the urgency of assessing and addressing the needs of our veterans. The men and women of this country selflessly defend every star and every color on our flag each day they don the distinguished uniform. When retirement or the expiration term of service sees them hang their garb and unlace their boots for the final time, it comes time for us to further extend our hands and return the favor. Supporting our troops is a commitment that extends far past the years of service and combat, and it is a duty that we must all make good on.
This year we are thrilled to once again announce our partnership with the The Women's Fund Miami-Dade, together with Camillus House & Health, Switchboard of Miami and The Children's Trust, to honor the winners of the 2015 Malone Prize on February 11, 2016, in Miami, Florida. The winners are:
Lt. Donna Gavin; Head of the Boston Police Department Anti-Trafficking unit
Special Agent Nikkole Robertson; FBI Violent Crimes Against Children, Chicago Office
Special Agent Victor Williams; Homeland Security, Miami, Florida
In conjunction with the awards, 3 Generations will premiere our new short documentary, Miami-Dade Takes on Sex-Trafficking, showcasing the work being done in Miami-Dade County to reduce and eradicate sex-trafficking in this community.
---
---
Additionally, The Women's Fund Miami-Dade will present the inaugural Annual Leslie Sternlieb Advocacy Award to Nancy Ratzan, a leader and advocate in the Miami-Dade Community whose work and tireless efforts has helped bring the issue of sex trafficking to the forefront of the Miami-Dade community. The State Attorney's Office will recognize Assistant State Attorney Brenda Mezick, Chief of Program Development & Public Policy for Human Trafficking, for her exceptional leadership and tenacity with the Katherine Fernandez Rundle Visionary Award.
Congratulations to the winners, and a special thank you to everyone who nominated the winners, assisting in the planning of the event, and participated in our newest film.
In December 1984 Glenn Ford was tried for the murder of Isadore Rozeman, a Shreveport Jeweler who was robbed and shot to death in his own shop, for whom Glenn did yard work. Despite Glenn's assertion of his innocence and a lack of evidence connecting him to the crime, a combination of:
Inexperienced defense lawyers (they had never tried a criminal case, were being paid less than $3 an hour and were unaware they could request funding to hire experts)

The testimony of a forensic pathologist (which was later exposed as "pure junk science at its evil worst")

Racial discrimination (from the all-white jury in a Confederate flag-flying Courthouse, at a time when legislation made it difficult to prove racial bias)
These issues led to Glenn being sentenced to death for a crime he did not commit. While in prison, Glenn was kept in his cell for 23 hours a day and was not permitted to participate in any religious services or educational programs.
After numerous failed appeals Glenn was finally released on March 11, 2014, when new evidence emerged showing that he 'was neither present at, nor a participant in' Rozeman's robbery and murder. At the time of his release, Glenn had spent 29 years, 3 months and 5 days behind bars, making him one of the longest serving death row inmates in the United States. Tragically, Glenn was diagnosed with terminal lung cancer shortly after his release.
After Glenn's exoneration, A.M Stroud, the lead prosecutor in the 1984 trial, issued an apology to Glenn, and urged that he be granted the maximum $330,000 compensation available under Louisiana state law:
"In 1984, I was 33 years old. I was arrogant, judgmental, narcissistic and very full of myself. I was not as interested in justice as I was in winning… Glenn Ford deserves every penny owed to him under the compensation statute."
However, Louisiana's compensation law requires "factual innocence," meaning that the defendant did not commit not only the crime for which he was convicted, but also "any crime based on the same set of facts." The state attorney general's office argued that Glenn didn't have "clean hands" because they claimed he knew about the plans for the Rozeman robbery and pawned some of the stolen jewelry. The Innocence Project's Kristin Wenstrom stated that 'they [the state attorney general's office] are coming up with new minor crimes he was never charged with or convicted of.'
The only compensation Glenn received was a debit card loaded with $20.24 upon his release, which was standardly issued to all released inmates, and he had to rely on donations to receive the hospice care that he urgently needed. On June 29, 2015, Glenn passed away from his disease at a home provided by the nonprofit group Resurrection After Exoneration.
Political Background to Glenn's Case
Although a particularly extreme example, Glenn's story is far from unique. Twenty states have no laws pertaining to compensation for the wrongfully convicted. There have been 152 exonerations from Death Row since 1972 and 329 post-conviction DNA exonerations since 1989. The number of innocent prisoners in the United States is unknown, but the few studies that have been conducted estimate that between 2.3% and 5% of prisoners are innocent. To provide context, if just 1% of prisoners were innocent, that would amount to 20,000 prisoners across the country.
Further, it is impossible to separate racial prejudice and institutionalized racism from issues surrounding both the death penalty and wrongful convictions. In Louisiana the odds of receiving a death sentence are 97% higher if the victim is white as opposed to black, in Washington State, North Carolina and California a black defendant is more than three times as likely to receive a death sentence if the victim is white. In 96% of states where there have been reviews of race and the death penalty, there was a pattern of either race-of-victim or race-of-defendant discrimination, or both.